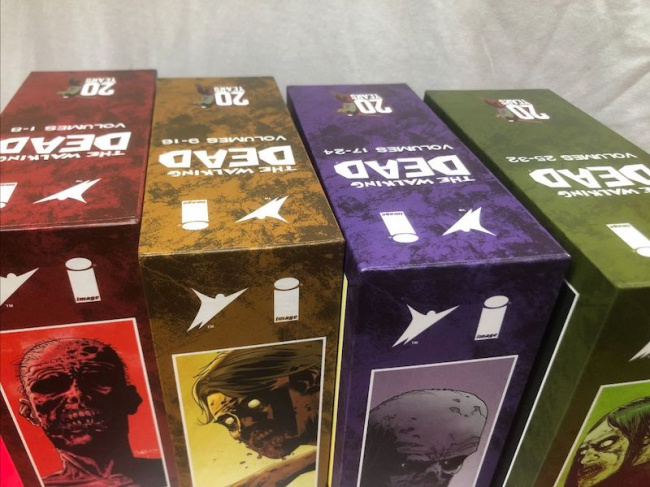 Image and Skybound will mark the 20th anniversary of
The Walking Dead
with four boxed sets containing the 32 original black-and-white trade paperbacks. The boxed sets will be released in October 2023, one per week, starting on October 3 in bookstores and October 4 in comic shops, with an MSRP of $125.
The Walking Dead was written by Robert Kirkman, with art by Tony Moore for the first six issues and Charlie Adlard for the remainder. The series, which ended in 2019 with issue #193, was originally published in black and white, and the first trade paperbacks collected six issues. Each of the four 20th Anniversary boxed sets will include eight of these trades. The series has also been published as hardcovers that contain 12 issues, omnibi that include 24, and compendia that comprise 48. The 15th anniversary boxed set, released before the series had reached its conclusion, contained the first three compendia with exclusive covers, as well as an expanded edition of Here's Negan (see "Image Releases 'The Walking Dead 15th Anniversary Box Set'").
Image has been republishing the comics in color and has announced an accelerated release schedule for the color issues, as well as some extras, in October (see "Skybound to Mark 20th Anniversary of 'The Walking Dead'").
The series continues to be one of the most popular creator-owned comics (see "Top Author Graphic Novel Franchises – Spring 2023").
Click Gallery below for images!