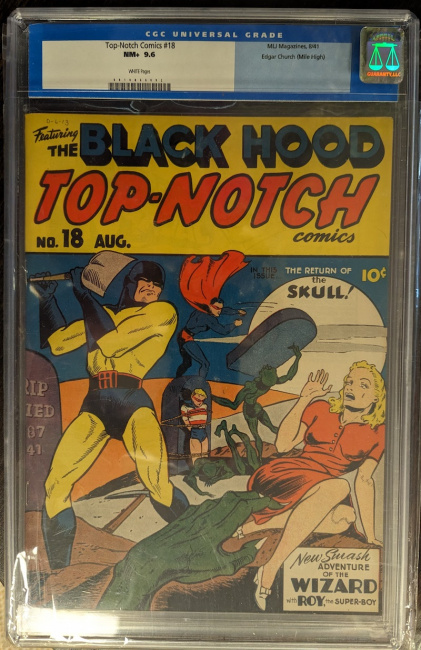 Shortly after the death of Portland, OR, collector James Strand, thieves began breaking into his house and stealing priceless items from his collection, including original art by Bernie Wrightson valued at $20,000, according to Steve Duin's column in
The Oregonian.
The FBI is investigating the thefts, and
Heritage Auctions
has posted a list of comics, books, and original art that they sold to him over the years, along with the contact information for the FBI agent on the case.
Strand was 87 when he died alone in his home in late July, and the house was robbed at least eight times after his death. By mid-August, books inscribed to Strand started showing up in local bookstores. Local antiquarian book dealer Scott Brown alerted the police and began compiling a list of the stolen items; he also got the FBI's art theft team involved in the case. Some of the stolen items, including two Stephen King books inscribed to Strand, have been sold on eBay. In other cases, individuals have been bringing them in to bookstores and comic shops, so the FBI is asking local retailers to be on the alert. Most of the collection is still missing, however. "James Strand collected unique material – letters, manuscripts, original artwork. Things that are irreplaceable," Brown told Duin. "That's what book dealers and comic-book dealers are most upset about. If it's lost, it's lost. You don't get it back."
Update: ICv2 reached out to the FBI and got this response from spokeswoman Joy Jiras: "Unfortunately, Mr. Strand did not have an inventory list so we are still piecing that together with the help of local book and collectible dealers who had regular interaction with him. At this point we estimate his collection was valued at roughly $1 million to $2 million." She also provided photos of three comics that have been recovered: Fight #56, valued at $500, and Black Hood #17 ($6,000) and #18 ("none higher"). Anyone who encounters items they suspect have been stolen from this collection should contact the FBI Portland Field office: (503) 224-4181 or 1-800-CALL-FBI or tips.fbi.gov.
Click Gallery below for images!