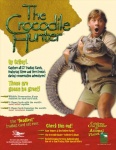 Dart Flipcards announced a trio of non-sports card issues that are all scheduled to be released by the end of the year. Foremost among them is a series of 72 cards featuring Steve and Terri Irwin's hokey, but fun adventures as chronicled on the popular Crocodile Hunter television series. The Crocodile Hunter was one of NBC's first 'reality' shows, and the Croc Hunter specials scored some of the network's higher ratings on Monday nights. The daring Steve Irwin draws attention to his conservation causes with his wild antics with deadly crocs, poisonous snakes, and venomous insects that were parodied in a famous Fed Ex commercial. In keeping with the themes of the show, each card in this 72-card series includes Wildlife Preservation facts on the back. Six special chase cards feature the world's most lethal reptiles, while three other chase cards depict the world's most venomous insects. All things considered, this just might be the deadliest trading card series ever.
I Love Lucy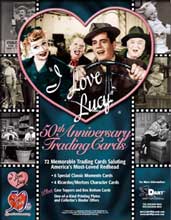 Dart's new 72-card 50th anniversary I Love Lucy trading cards are hardly the first series of cards inspired by the television series that set the model for TV sitcoms for decades to come with its innovative use of three cameras and real time performances in front of a live studio audience. Thanks to Nickelodeon, I Love Lucy is still one of the most well known of all TV series. The Dart series includes six 'classic moments' cards evoking the belly laughs from the very best episodes, and four Ricardo/Mertzes character cards (and those four definitely had plenty of character to go around). Dart will also produce a special collector's binder to hold the entire series of I Love Lucy cards.
Betty Boop
Like Lucy, Betty Boop has been immortalized in trading cards before, and like Lucy, the vivacious brunette Betty is a cultural icon of no small significance.

The Betty Boop cartoons directed by Dave Fleisher still have the power to amuse and enthrall audiences with their sexy and often surreal images and great musical backgrounds provided by Cab Calloway ('Minnie the Moocher') and other jazz greats.

Dart is creating a number of chase cards including six 'Boop Oop a Doop' risky foil cards as well as three special friends of Betty Boop cards.

Dart Flipcards is also producing a special Betty Boop Collector's Album.