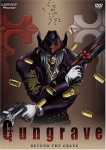 Cable and satellite network G4/Tech TV's Anime Unleashed is introducing another hot new anime series this week. Last week G4 presented the American television premiere of Read or Die the TV (see 'G4 Introduces Read or Die the TV'), and this week the network presents another new series, Gungrave, which is based on a popular video game and features the creative input of Yasuhiro Nightow, creator of Trigun.
Geneon, which is releasing Gungrave in the U.S., has only put out two DVDs from the 26-episode series, with the second DVD just hitting stores on Sept. 28th.
The Gungrave anime handily won a recent poll on the Adult Swim Website, where it was favored by 52% of the fans, who chose it over such titles as Samurai Champloo, Paranoia Agent and Peacemaker Kurogane.
G4/Tech TV will present two episodes of Gungrave per night starting at midnight (ET), and repeating the episodes again in the wee hours (3am ET).
With its video game origins, Gungrave should be a natural fit for the G4 audience, and this dark battle between the heavily armed avenger from the grave and a vicious criminal syndicate already has many anime fans excited. Geneon broke new ground on Anime Unleashed with Last Exile, the superb Gonzo-produced series that aired long before the final DVDs were released here in the U.S. The success of the strategy with Last Exile has emboldened Geneon to employ a similar strategy with Gungrave and Read or Die the TV, two of the company's hottest new releases.