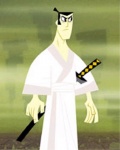 Genndy Tartakovsky's new animated series Samurai Jack debuts this weekend with a 90-minute extravaganza, before settling into its normal Monday evening at 8pm (Eastern and Pacific) slot on the Cartoon Network. With an anime/manga-like emphasis on visual storytelling and a minimalist, yet atmospheric animation style that hearkens back to the UPA cartoons of the 1950s (see 'American Anime?'), Samurai Jack is the most interesting domestically-produced U.S. television cartoon project since the PowerPuff Girls. The series earned a rave review from James Poniewozik in Time Magazine this week (August 13), but it also inspired a cautionary syndicated newspaper feature by Jean Spreier of the Dallas Morning News, that ran in papers across the country under the title 'New Cartoon Doesn't Seem Quite Right For Kids.'
The Time review raves about the pacing of Samurai Jack: 'in an era of chatty, hyper'toons, this action show knows when to stand still and shut up. Tartakovsky uses generous pauses for drama and laughs, and has no problem going 10 minutes at a stretch without dialogue...You might call Samurai Jack a soba western, or sashimi sci-fi. Either way, you'll slurp it up.' The Time review certainly holds out the hope that Samurai Jack will carve out a substantial niche in the landscape of American pop culture, which, surprisingly, can also be inferred from Jeanne Spreier's Dallas Morning News piece. The newspaper article goes to great lengths to indicate that the series is not for preschoolers or 'any child susceptible to scary dreams,' while admitting that the series' opener 'is at minimum captivating, combining aspects of fantasy time travel, heroic legend, and biblical-style struggle for survival.'
But the newspaper piece also brings up a major issue that faces animation, anime, and comic books -- the 'if it's animated (or drawn), it must be for children.' Spreier even specifically invokes anime: 'In a sense, 'Samurai Jack' is like Japanese anime. A complicated story, best understood by older audiences, told through animated characters who have superhuman powers, but human failings...True, it's good television -- just not good kids' television.' Samurai Jack is clearly good enough to stir up a backlash among the throng of media critics who feel compelled to protect children -- and articles like the one in Dallas Morning News are actually good for the animation medium because these warnings are starting to educate the public that just because a program is animated doesn't mean it is targeted at rugrats. The debut of the 'Adult Swim' block on the Cartoon Network (see 'Cowboy Bebop on Cartoon Network') should also help to segment the animation audience and explode the myth that cartoons are only for kids.
For retailers Samurai Jack's heady debut means that there is another potentially hot property to track.

If the series does find a substantial audience (and the prospects look good) then licensed merchandise will be available by next summer.

Stay tuned for more details.