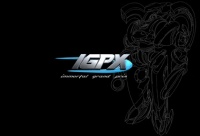 The Cartoon Network announced that the much-heralded Naruto anime series is heading for the Toonami Block, where it will air on Saturday nights (7pm to 11pm ET, PT) starting in the third quarter of 2005. Just yesterday ShoPro announced the acquisition of American rights to the long-running Naruto series (see 'ShoPro Snags Naruto Rights'), which is already one of the top anime/manga properties in the U.S. thanks to exposure of the Naruto manga in Shonen Jump, an extremely popular series of graphic novel collections and extensive fansubbing, which has made Naruto a huge hit among hardcore anime fans.
Other new anime series heading to Toonami in the fourth quarter include IGPX, the first Toonami original series, and Bobobo-bo Bo-Bobo, a comedy/action anime based on a Shueisha manga property. IGPX is a collaborative effort between the Cartoon Network and Production I.G. (Ghost in the Shell, Kill Bill). In the futuristic world of the Immortal Grand Prix (IGPX) two teams of three giant robots (driven by human pilots) race around a huge 60-mile grand prix course at speeds of 350 mph.
One Piece, a rollicking pirate saga which is one of the most popular anime series in Japan but which has been only a modest ratings success on the Fox Box/4Kids TV Saturday morning block, gets a chance to boost its stock on Toonami starting in May. Zatch Bell, another anime that has been very popular with teens and tweens in Japan, joins the Toonami lineup in March (see 'Zatch Bell Anime on Cartoon Network').
Anime series that are returning to Toonami with new episodes include Dragon Ball GT (16 new episodes) and Duel Masters (26 new episodes). Non-anime Toonami offerings will include The Batman, Teen Titans and Justice League Unlimited.