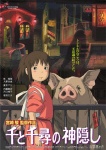 The latest film from Hayao Miyazaki and Studio Ghibli, Sen To Chihiro Kamikakushi ('Spirited Away') is about to set the all time movie box office record for Japan, surpassing the $160 million earned by Miyazaki's previous film, Princess Mononoke. The story of Spirited Away takes place in modern times and centers around a young girl, Chihiro, whose parents are turned into pigs. She must enter the spirit world in order to save them and return them to human form. Written and directed by Miyazaki himself, Spirited Away benefits from the brilliant animation techniques of the Ghibli team led by chief animator Mashashi Andou, who performed the same function for Princess Mononoke.
A recent article on the Inside.com website noted that Disney, which has the American rights to Spirited Away, doesn't know what to do with the film. The studio spent considerable money on the English version of Princess Mononoke , which was written by Neil Gaiman and voiced by top Hollywood talent. Unfortunately Mononoke, with its difficult ecological themes, stiffed at the box office in the U.S. Will Disney attempt to release Spirited Away theatrically? Having kept their 'hands off' Princess Mononoke and failed, will the studio try to 'Disneyize' Spirited Away?'
Right now no one outside the studio knows what Disney will do with this project.

Although Princess Mononoke was a 'flop' in U.S. theaters, it was a huge anime hit -- the best selling DVD in Diamond Comic Distribution's history!

Spirited Away could be a major seller for pop culture retailers, it just remains to be seen how long American audiences will have to wait to see the film.

While the gap between when a major anime release opens in Japan and when it reaches the U.S. has been shrinking drastically over the past few years, the situation with the brilliant films from Studio Ghibli is just the opposite.

Although Disney has put out Princess Mononoke and Kiki's Delivery Service, other films that would do extremely well in pop culture stores such as Porco Rosso, a wonderful saga of seaplane pirates in the Mediterranean, seem no closer to the U.S. market now than they did five years ago.

It is possible that the video and DVD revenue from Princess Mononoke has been enough to stir Disney to some sort of action on the other Ghibli films that it controls the rights to, but Disney operates on such a huge mass market scale, that a film that is one of the best sellers ever in pop culture stores can still be considered a flop.