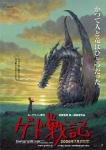 Studio Ghibli has announced that its next feature length anime release will be based on Ursula K. Le Guin's A Wizard of Earthsea, the first book in her justly acclaimed four-volume Earthsea Cycle. The story of a young wizard coming of age and coming to terms with his powers has been compared to J.K. Rowling's Harry Potter books and the fantasy world created by Le Guin has been likened to Tolkien's beloved Middle Earth. The Ghibli film based on A Wizard of Earthsea has the Japanese title, Gedo Senki and its English title appears to be Tales From Earthsea.
Production of the film is already underway and it is scheduled for a July 2006 release in Japan. Hayao Miyazaki's son Goro is the director, and reports indicate that the elder Miyazaki is not exactly thrilled. Goro has never directed a film before, but he has been until recently the director of the Ghibli Museum.
The Sci-Fi Channel produced a live action version of the Earthsea Cycle in 2004, a mini-series entitled Legend of Earthsea.