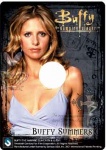 Serious USA, Inc.--the US arm of Serious Global, Ltd. of England -- is launching its CD Cardz in the US. CD Cardz are trading card-sized CD-ROMs on which content based on licensed properties is recorded. Serious is producing CD Cardz based on an impressive array of TV and movie properties, including Lord of the Rings, Buffy, Medabots, Outer Limits, Final Fantasy, Jurassic Park, Planet of the Apes, and Stargate SG-1. The products have sold over 3 million units in Europe prior to their introduction in the US. Serious does its own manufacturing, using a proprietary technology.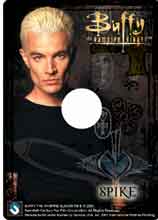 Cards are produced for each character associated with a property, with color images of the appropriate character on the CD-ROM itself. Content includes movie trailers, character profiles, soundtrack samples, screensavers, photo galleries, and other features.
We've seen a variety of packages, including blister-pack and clamshell sets, and sets of four in DVD-style packaging. Price-points also vary. A seven-card Planet of the Apes set is $24.95. The soon-to-be-standard four-card DVD-style packaging will have an MSRP of $19.95. In 2002, Serious also plans to explore foil packs similar to the packaging for paper trading cards.
Similar products have been on the market in the U.S. in the past. Upper Deck tried some sports-related products that were discontinued after receiving cease and desist notices from Serious, which has patented this rectangular CD-ROM technology. CDRacecards are a NASCAR licensed product with two rounded sides and two straight sides. But we're aware of no other trading card-shaped CD-ROM products with this amount of storage available in the U.S.
Serious is still setting up its U.S. distribution.

Electronics Boutique stores are expected to carry the sets, and other specialty retail chains are being approached.

Diamond Comic Distributors will list CD Cardz in its November Previews catalogue.

Georgia Music and other trading card distributors are also being contacted.