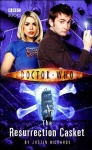 Ads currently being run on the Sci Fi Channel's Doctor Who broadcasts have been supporting the new BBC hardcover novels ($11.95 MSRP), showing the six covers of the titles currently available in the U.S., and urging viewers to 'experience even more adventures of Doctor Who in a special series of mini-hardback novels, available at a bookstore near you.'
The current and upcoming volumes in the mini-hardback line according to Diamond, which has exclusive U.S. distribution rights, are:
Doctor Who The Stone Rose

(May)

Doctor Who Feast of the Drowned

(June)

Doctor Who The Resurrection Casket

(July)
One new volume is released each month.
Other Doctor Who books from the BBC, including the Eighth Doctor and Past Doctor Adventures, are also available in the States, as well as non-fiction titles about the show.
No plans currently exist to bring the episode-by-episode novelizations tied to the first seven doctors back into print, according to Diamond.
The first season of the new series wrapped up with the season finale last week. The second season will kick off in the U.S. on Sci Fi Channel in October.
A new spin-off series, Torchwood, featuring Capt. Jack, is currently shooting in the UK.