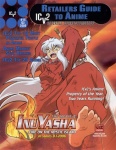 An ICv2 release. Gen Fukunaga of FUNimation Entertainment is the most powerful person in the North American anime industry according to a new list compiled by ICv2 in the just released ICv2 Retailers Guide to Anime/Manga #15. To arrive at this list ICv2 interviewed key players from all elements of the industry including the production companies, the distributors, and retailers. We asked our interview subjects to concentrate on the American side of the market and to look for those key figures who had influence not only over the actions of their own companies, but also over others not in their control. We developed a system to tabulate their responses and came up with the following list of the Ten Most Powerful:
1. Gen Fukunaga, President & CEO FUNimation Entertainment
2. John Ledford, CEO of ADV Films
3. Kim Manning, Programmer Adult Swim
4. Katsuhiko Tsurumoto, V.P. Business Development, Geneon
5. Anime Buyer, Best Buy
6. Hayao Miyazaki, Founder Studio Ghibli
7. Arthur Smith and Shin Ishikawa, Gonzo Digimation
8. John Easum, Executive Vice President Viz Media
9. Ken Iyadomi, Bandai Entertainment
10. John Sirabella, CEO Media Blasters
The article provides the reasons (gleaned from our interviews) why each person ended up on the list, and also mentions (briefly) the next five (presented in alphabetical order).
In the new Guide ICv2 provides (for the first time) anime market share data for the first six months of 2006 (as well as 2005 data for comparison purposes). Also in this issue ICv2 includes a section on manga and anime-related art books and novels, a growing category of books that retailers won't want to ignore -- and for the first time ICv2 picks out the Top Ten new manga launches (out of more than 50 debuting series).
As usual ICv2 also provides market overviews for both anime and manga and list the best-selling properties in each category (the Top 50 for manga and the Top 25 for anime). Here are the Top Ten Properties in each category:
ICv2 Top Ten Manga Properties
1. Naruto
2. Fruits Basket
3. Kingdom Hearts
4. Full Metal Alchemist
5. Loveless
6. Tsubasa
7. Death Note
8. Negima
9. Rurouni Kenshin
10. Bleach
ICv2 Top Ten Anime Properties
1. Final Fantasy VII: Advent Children
2. Howl's Moving Castle
3. Dragon Ball Z Movie #12: Fusion Reborn
4. KARAS
5. Full Metal Alchemist
6. Naruto
7. Samurai Champloo
8. Whisper of the Heart
9. Samurai 7
10. Inuyasha
For information on how to obtain your copy of the ICv2 Retailers Guide to Anime/Manga #15, with all the special feature articles, the complete Top Properties lists, and much more, see 'ICv2 Releases Retailers Guide to Anime/Manga #15.'