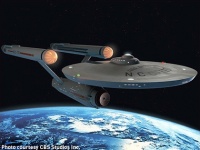 Paramount has announced that Star Trek: The Original Series will be re-released in a new re-mastered edition with new digitally-enhanced special effects and music. The newly refurbished Star Trek episodes will begin airing on more than 200 stations starting September 16th, and eventually all 79 episodes will re-mastered and presumably also be issued on DVD, probably in one or more of the new hi-def formats.
The first episode to air will be 'Balance of Terror,' which, according to Michael Okuda the veteran special effects maestro who spent 18 years on various Star Trek series and is overseeing this project, 'gives us a chance to really show off the new Enterprise.' One of the major features of the special effects makeover will be a revision of the space ship exteriors -- The Enterprise and the other space ships will be replaced with state of the art CGI-created ships.
Among other key changes, the show's opening will be redone giving greater depth and dimension to the Enterprise and the planets, and the original theme by Alexander Courage has been re-recorded in state-of-the-art digital stereo audio with a larger orchestra. Shots of galaxies and other deep space phenomena seen on the viewscreen of the Enterprise will also be replaced and exteriors such as planets will be redone. Some of the iconic matte paintings used as backdrops for the strange, new worlds explored by the Enterprise crew will get a CGI facelift adding atmosphere and lighting.
While Paramount's 40th Anniversary updating of the original Star Trek series will keep it viable in the age of high-definition, there could be some grousing from the fans (many of whom have never accepted George Lucas' tampering with the original Star Wars films) particularly if Paramount changes the aspect ratio from the original 1.33:1 to the HD standard 1.78:1 and doesn't provide an option for viewing the original series as originally presented in future DVD releases.