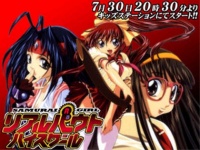 Some publishers may be cutting back on manga and anime releases (see 'Fanboy Restructures'), but Tokyopop plans to launch more than 450 new products in 2002 and the company has licensed eight important new properties, four of which have already been featured on ICv2, including Cowboy Bebop (for manga, see 'Tokyopop Gets Cowboy Bebop'), Love Hina (also manga, see 'Love Hina Embraces America'), GTO 'Great Teacher Onizuka' (anime and manga, see 'Tokyopop Drives GTO To Market'), and Initial D (manga, see 'Tokyopop Gets...'). Let's take a look at the four other licenses that Tokyopop announced today, since they encompass all the various product categories that this country's most aggressive manga/anime publisher is exploiting, including anime, manga, and CD soundtracks.
Real Bout High School
Here's another example of how the gap between when an anime title appears in Japan and when it bows in the U.S. is shrinking (though many titles remain hung up in rights battles, or with license holders that don't have a clue, e.g. Porco Rosso). The Real Bout High School anime (produced by Studio Gonzo) debuted in Japan in 2001, and will be available in the U.S. less than a year later. The story of a high school girl who is a martial arts whiz (champion of her school's Kendo team), Real Bout High School abruptly shifts gears as its heroine is thrust into combat with a host of horrific monsters when she is summoned to the strange world of Solvania. In addition to the anime, Tokyopop will also publish a translated version of the Real Bout High School manga series by Reiji Shiga and Sora Inoue, which appeared in the Japanese Dragon magazine.
Alexander
Alexander is a cutting edge science fiction anime series that actually functions as an accurate biography of Alexander the Great. Directed by Yoshinori Kanemori, this recent (1999) anime was adapted from a novel by Hiroshi Aramata, the creator of Doomed Megalopolis, rather than from a manga series or a videogame. Produced by Madhouse (and WOWOW) this innovative series features character designs by Peter Chung, who created Aeon Flux for MTV. Alexander is another example of the wide range of subject matter that anime directors have tackled (and made immensely entertaining).
The Sounds Of Onimusha
Tokyopop will add to its growing list of soundtracks (see 'Tokyopop Adds Soundtracks, J-Pop Videos') with The Sounds of Onimusha CD, which collects the music of Mamoru Samuragoch from the Sony Playstation 2 and X-Box Onimusha games. The complex score is a haunting blend of orchestral arrangements and traditional Japanese instruments.
Priest
Tokyopop is the only U.S. publisher who has tapped into the thriving Korean comics market ('manwha' is the Korean version of 'manga').

Priest will be the third Korean title published by Tokyopop (Island and Ragnarok are the others), and the synopsis makes it sound like an Oriental 'take' on Garth Ennis' Preacher.

'Hero' Ivan Issacs is a former priest who sold his soul to a supernatural power and uses his newly granted powers to fight the demon lord Temoraze and his zombie minions.