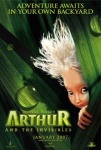 Variety is reporting that the box office success of Luc Besson's Arthur and the Invisibles in France has led to the authorization of two sequels to the hybrid animated/live action fantasy film which opens in the U.S. this Friday. Besson, who is best known for La Femme Nikita and The Fifth Element, had indicated that Arthur was going to be his last film; it is not immediately clear if he will be directing either of the sequels.
Arthur and the Invisibles is based on a children's book written by Besson about a young boy who, with the help of a group of mysterious little people, saves the family home from real estate developers.
MGM did premier Arthur and the Invisibles in the U.S. in December in order to make it eligible for the Best Animated feature Academy Award, but it has been ruled ineligible since to qualify for the animation award a film has to be at least 75% animated, and Arthur evidently is not. Arthur's disqualification could seriously affect the chances of Satoshi Kon's Paprika receiving a nomination. With Arthur there were 16 animated films vying for the nomination, which meant that 5 films could actually receive nominations in the animated feature category. Without Arthur there are only 15 films, which according to the Oscar rules means that there can only be three nominees, seriously damaging the chances that Paprika will make the cut in the face of major competition from the likes of Cars, A Scanner Darkly, Over the Hedge, and Flushed Away.