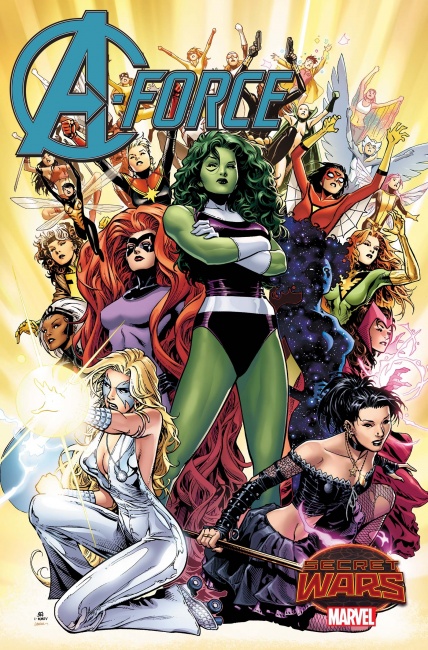 A-Force #1
Publisher: Marvel Comics
Release Date: May 20,2015
FOC Date: April 27, 2015
Cover Price: $3.99
Writers: G. Willow Wilson & Marguerite Bennett
Artist: Jorge Molina
Cover: Jim Cheung
Variant Covers: Adam Hughes, Skottie Young, Russell Dauterman, Jorge Molina, Stephanie Hans
Format: 32 pgs., Full-Color
Rating: Teen
An all-new era begins this May as Marvel's Mightiest Mavens assemble for an explosive new series launching during Secret Wars (see "All-Female Avengers Team for 'Secret Wars'"). As the Secret Wars begin, the Avengers as you know them are no more – and a new team will lead the way! In a secluded corner of Battleworld lies Arcadia, an island nation fiercely protected by a team of Avengers the likes of which has never been seen before!
And there came a day unlike any other, when Earth's Mightiest Heroines found themselves united against a common threat. Fighting to protect the small sliver of their world that's left, they stand tall, shoulder-to-shoulder, ready to take on the horde.
Description of preview: 9 total pages (Covers and 3 interior pages).
See Gallery below.