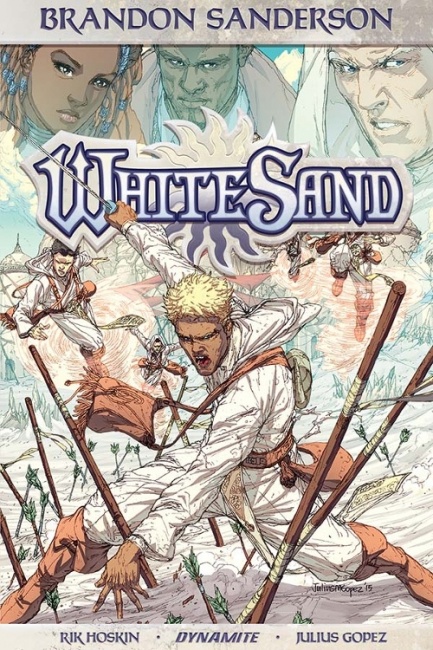 Brandon Sanderson's White Sand Vol. 1 HC
Publisher: Dynamite Entertainment
Release Date: June 29, 2016
Cover Price: $24.99
Writer(s): Brandon Sanderson, Rik Hoskin
Artist: Julius Gopez
Cover: Julius Gopez
Format: 160 pgs., Full-Color , Hardcover
Rating: Teen+
A brand new saga of magic and adventure by #1
New York Times
best-selling author Brandon Sanderson! On the planet of Taldain, the legendary Sand Masters harness arcane powers to manipulate sand in spectacular ways. But when they are slaughtered in a sinister conspiracy, the weakest of their number, Kenton, believes himself to be the only survivor. With enemies closing in on all sides, Kenton forges an unlikely partnership with Khriss -- a mysterious Darksider who hides secrets of her own.
Presented as a never-before-seen graphic novel,
White Sand
brings to life a crucial component of Brandon Sanderson's sprawling Cosmere universe. The previously unpublished story is told by Brandon Sanderson and Rik Hoskin (
Mercy Thompson
), with art by Julius Gopez and colors by Ross Campbell. Employing powerful imagery and Sanderson's celebrated approach to magical systems,
White Sand
is a spectacular new saga for lovers of fantasy and adventure.
Description of preview: 9 total pages (Cover and 8 interior pages).