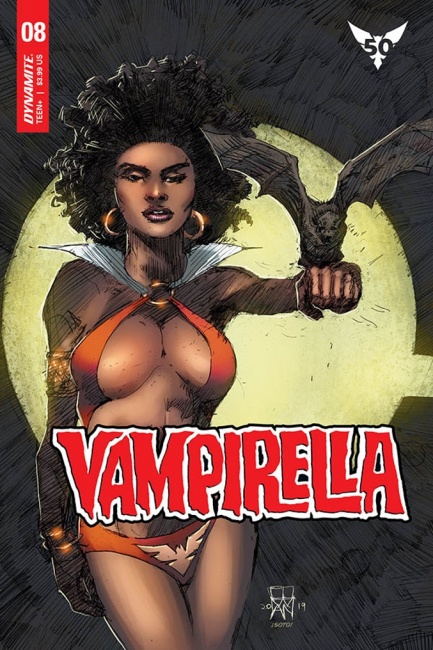 Vampirella (Vol.5) #8
Publisher: Dynamite Entertainment
Release Date: February 19, 2020
Cover Price: $3.99
Writer: Christopher Priest
Artist: Giovanni Timpan
Cover(s): Denys Cowan (A), Alitha Martinez (B), Mark Beachum (C), Afua Richardson (D), Cosplay (E)
Format: 32 pgs., Full-Color
Rating: Teen+
Publisher Description: In collaboration with Dynamite Entertainment, Christopher Priest is celebrating Black History Month and paying tribute to the contributions of creators of color on his
Vampirella
run.
As Christopher Priest's acclaimed run on
Vampirella
has continued on, the veteran writer and editor is constantly working closely with Dynamite brewing new ideas to engage the comic book community of fans, retailers and press. For February's
Vampirella
#8, Priest thought of a symbolic way to pay tribute to an underrecognized and underutilized portion of creators and fans.
"It is a significant and unique gesture on Dynamite's part to work with me to acknowledge the contributions of African American artists in this industry with a set of covers exclusively developed by artists of color," said Priest. "Both my veteran buddies and inspiring boundary breakers creating their own unique expressions of our favorite Vampiri."
Priest and editor Matt Idelson carefully assembled a team comprised of Denys Cowan, Alitha Martinez, Mark Beachum and Afua Richardson to contribute covers inspired by a simple premise. They were asked to imagine creating the Daughter of Drakulon back in 1969 as if her appearance was inspired by African American women rather than the Bettie Page and Barbarella vein that James Warren, Forrest J. Ackerman, Frank Frazetta and Trina Robbins ended up tapping into. They are also joined by returning cosplayer Mai (Maidenhellxo).
Click on Gallery below to see full-sized images of the covers.