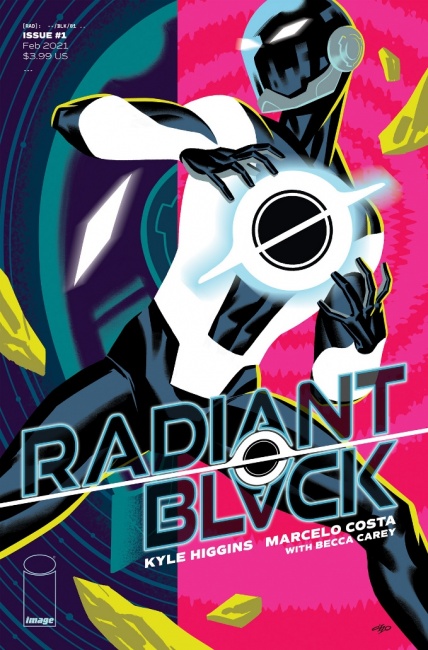 Publisher Description
: Power Rangers meets Invincible in new superhero series Radiant Black by Kyle Higgins & Marcelo Costa.
Bestselling writer Kyle Higgins (
Mighty Morphin Power Rangers
,
Ultraman
,
C.O.W.L.
) and superstar artist Marcelo Costa team up for
Radiant Black
. This all new, ongoing superhero series is set to launch from Image Comics in February 2021.
Radiant Black
#1 introduces Nathan Burnett who has just turned thirty. Things aren't great: He's working (and failing) at two jobs, his credit card debt is piling up, and his only move... is moving back home with his parents. But when Nathan discovers and unlocks the ethereal, cosmic RADIANT, he's given the power to radically change his fortunes! There's just one problem: The powers don't belong to him. And the COSMIC BEINGS who created them want them back... by any means necessary.
Radiant Black
#1 will be available at comic book shops on Wednesday, February 10:
Cover A by Michael Cho [DEC200009]
Cover B by Eduardo Ferigato & Costa [DEC200010]
Cover C Blank cover – [DEC200011]
Cover D (1:10 incentive) by Costa [DEC200012]
Cover E (1:25 incentive) by David Finch, Jimmy Reyes & Costa [DEC200013]
Click on Gallery below to see full-sized images.