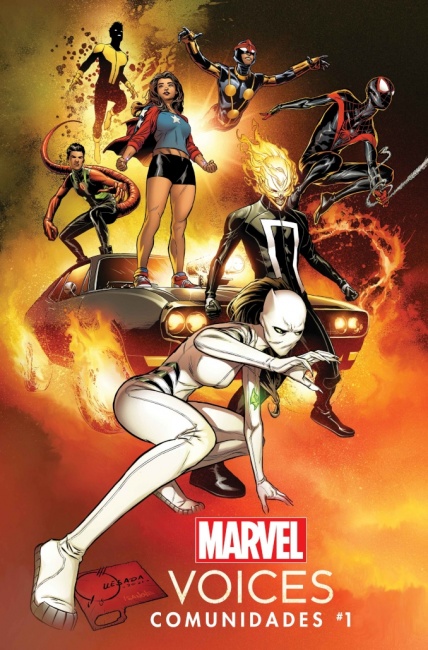 Marvel's Voices: Comunidades #1
Publisher: Marvel Comics
Release Date: November 10, 2021
Cover Price: $9.99
Writter(s): Edgar Delgado, Leo Romero, Karla Pacheco, Nico Leon, Erica Harrell, Desirée Proctor, Daniel José Older, Terry Blas, Juan Ponce, Julio Anta, David Betancourt, Yehudi Mercado, Claibel Ortega, Amparo Ortiz, & Alex Segura
Artist(s): Francesco Herrera, Leo Romero, Vanesa Del Rey, Nico Leon, Paco Medina, Germàn Peralta, Julius Ohta, Wilton Santos, Enid Balàm, Alitha Martinez, Mauro Fodra, Adriana Melo, Caio Majado, Alba Glez, & Gustavo Duarte
Cover(s): Joe Quesada (Main), George Pérez, Jack Abel (Remastered Variant), Mateus Manhanini (Variant), Maria Wolf (Variant), Nabetse Zitro (Variant), Humberto Ramos (Variant), Natacha Bustos (Variant)
Format: 96 pgs., Full-Color
Rating: Teen+
Publisher Description
. This November, Marvel Comics is proud to present
Marvel's Voices: Comunidades
. This latest one-shot in the
Marvel's Voices
series will continue the tradition of highlighting the cultural richness of Marvel Comics and uplifting new voices in the comic book industry. Following the success of
Marvel's Voices: Legacy
and
Marvel's Voices: Pride
,
Marvel's Voices: Comunidades
will turn the spotlight to Latino and Latinx heroes and creators from all corners of the Marvel Universe. These all-new stories will feature thrilling adventures of some of Marvel's most popular heroes while celebrating the range of their cultural heritage as told by fan-favorite writers and artists and those making their Marvel Comics debut. On sale November 10.
Main Cover by Joe Quesada
Remastered Variant Cover by George Pérez, Jack Abel & Java Tartaglia
Variant Cover by Mateus Manhanini
Variant Cover by Maria Wolf & Mike Spicer
Variant Cover by Nabetse Zitro & Jesus Aburtov
Variant Cover by Humberto Ramos & Edgar Delgado
Variant Cover by Natacha Bustos
Click Gallery below for full-size images.