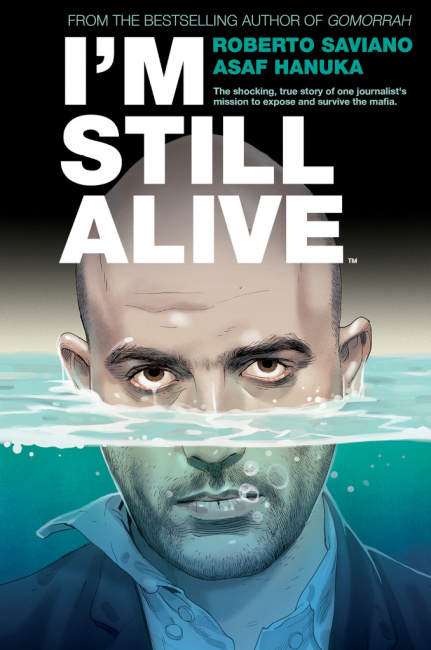 I'm Still Alive HC
Publisher: BOOM! Studios
Release Date: 10/5/2022
Cover Price: $24.99
Writer: Roberto Saviano
Artist/Cover: Asaf Hanuka
Format: 144 pgs., Full-Color, Hard Cover
UPC: 9-7816-8415-4425-5249-9
Rating: Mature Readers
Publisher Description
.
I'm Still Alive
is a new original graphic memoir from
New York Times
best-selling author Roberto Saviano (
Gomorrah
,
ZeroZeroZero
,
The Piranhas
) and Eisner Award-winning cartoonist Asaf Hanuka (
The Realist
,
The Divine
), detailing for the first time ever Saviano's personal account of his 15 year-long existence as the Italian mafia's greatest threat and his persistent will to survive, in stores October 2022.
When journalist Roberto Saviano wrote the groundbreaking international bestseller Gomorrah, he exposed the inner workings of the Naples mafia, resulting in real-world investigations into the corruption at the heart of the Camorra. But with the pursuit of justice and worldwide renown came violent death threats and the need for an isolated existence behind armed guards, which Saviano suffers to this day. Joined by award-winning cartoonist Asaf Hanuka, Saviano shares his deepest thoughts and experience of life in Naples, where he witnessed the power and violence of the mafia firsthand, as well as the unvarnished truth of his daily life after exposing the most ruthless and powerful criminal organizations of the 21st century.
Click Gallery below for full-size images.