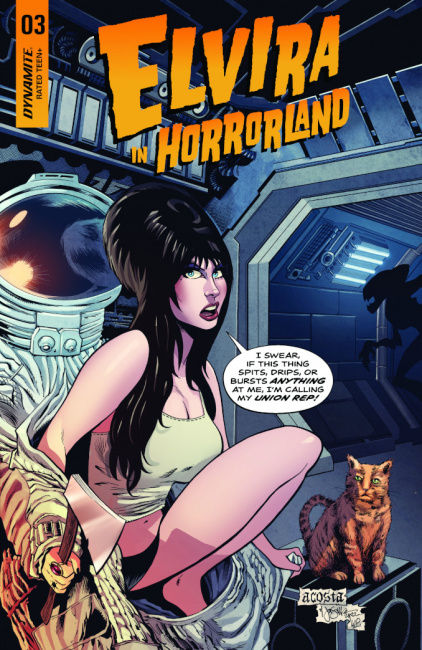 Elvira in Horrorland #3
Publisher: Dynamite Entertainment
Release Date: 8/10/2022
Cover Price: $3.99
Writer: David Avallone
Artist: Silvia Califano
Cover(s): Dave Acosta (A), John Royle (B), Silvia Califano (C), Photo (D)
Format: 32 pgs., Full-Color
Rating: Teen+
Publisher Description
. Elvira boards a doomed spacecraft bound for thrills, chills, spills, and bad jokes! In space, no one can hear your goofy sex puns! The Mistress of the Dark finds herself "alienated," as her trip through the Multiverse of Movies lands Elvira aboard a certain doomed starship with a certain deadly stowaway. (No, it's not the cat.)
Come for the horror comedy, stay for the franchise fatigue in this Promethean effort by writer David Avallone (
Elvira Meets Vincent Price
,
Bettie Page: Unbound
) and artist Silvia Califano (
Star Trek
,
Judge Dredd
). All these fun, thrills and spills, plus a series of amazing covers by returning artists Dave Acosta, John Royle, series artist Califano, and an amazing Elvira photo cover you won't want to miss!
Click Gallery below for full-size images.