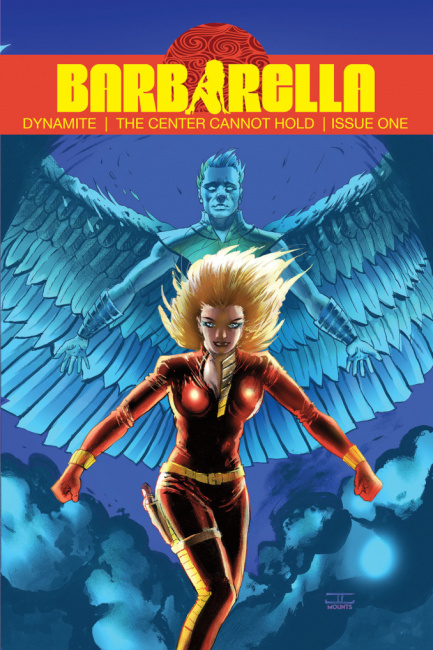 Barbarella: The Center Cannot Hold #1
Publisher: Dynamite Entertainment
Release Date: February, 2023
Cover Price: $3.99
Writer: Sarah A. Hoyt
Artist: Riccardo Bogani
Cover(s): John Cassaday (A), Derrick Chew (B), Celina (C), Geebo Vigont (D), Cosplay (E), Jimmy Broxton (F)
Format: 32 pgs., Full-Color
Rating: Teen+
Publisher Description
. Award-winning author Sarah A. Hoyt continues her celebrated run on Barbarella this coming February with a thrilling new storyline "The Center Cannot Hold." Hoyt is joined on this new title by the talented artist Riccardo Bogani.
Barbarella and her pal Vix are off to the curious creature's home world to try and stop a war between the Architects and their ancient nemesis, the fearsome Unnamable. The sheer volume of lives that will be lost in a war between two such massive galactic powers is nearly impossible to calculate. To complicate matters, her companion Taln mysteriously vanishes, leaving Barbarella to make her way through this adventure mostly alone, while Vix has to come to terms with the old adage that you can't go home again. And at least one familiar face will return in this series as secrets are revealed and sins laid bare.
Alongside interior artist Riccardo Bogani, a crew of top cover artists has convened to portray the siren of the spaceways. Superstar Derrick Chew (
Harley Quinn
,
Supergirl
) leads the pack, with legendary John Cassaday (
Astonishing X-Men
,
Lone Ranger
), Celina, Geebo Vigonte, Jimmy Broxton, cosplayer Rachel Hollon, and previous Barbarella artist Madibek Musabekov also on the team.
Click Gallery below for full-size images.