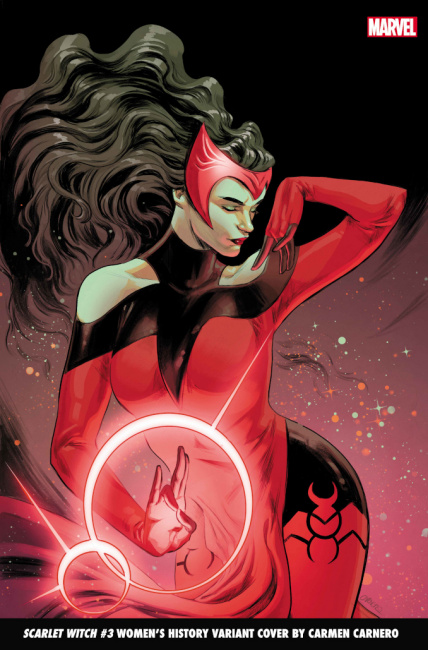 Publisher Description
. This March, Marvel Comics is proud to continue its tradition of celebrating Women's History Month with a collection of variant covers that depict its greatest women super heroes! This year's covers come from a variety of artists who are currently lighting up the industry with their unique and exciting styles: Peach Momoko, Carmen Carnero, Ema Luppachino, Rickie Yagawa, and Aka.
The five featured heroines range from A-List superstars to newly introduced favorites, and they're each currently headlining their own solo adventures, which the Women's History Month covers will adorn throughout the month:
Bloodline, the daughter of Blade who debuted in last year's Free Comic Book Day: Avengers/X-Men #1 and will star in her own limited series launching next week by her co-creators Danny Lore and Karen S. Darboe.
Captain Marvel, whose current solo run by Kelly Thompson will soon be approaching its milestone 50th issue.
Scarlet Witch, who recently embarked on a breathtaking new journey in the pages of Steve Orlando and Carmen Carnero's Scarlet Witch series.
Storm, whose story as one of mutantkind's last defenders will be told in the pages of Al Ewing's Storm & the Brotherhood of Mutants, part of the X-Men's Sins of Sinister crossover. The iconic X-Men leader will also star in a brand-new limited series by Ann Nocenti and Sid Kotian this April, set in her "punk" era.
And Wolverine, whose violet days as mutant assassin X-23 will be revisited in the upcoming X-23: Deadly Regenesis series by writer Erica Schultz and artist Edgar Salazar.
Check them out the variant covers now and collect all five throughout March:

On Sale 3/8
Bloodline: Daughter of Blade #2 Women's History Variant Cover by Peach Momoko
Scarlet Witch #3 Women's History Month Variant Cover by Carmen Carnero
X-23: Deadly Regenesis #1 Women's History Month Variant Cover by Aka
On Sale 3/15
Captain Marvel #47 Women's History Month Variant Cover by Ema Luppachino
On Sale 3/22
Storm & The Brotherhood of Mutants #2 Women's History Month Variant Cover by Rickie Yagawa
Click Gallery below for full-size images.