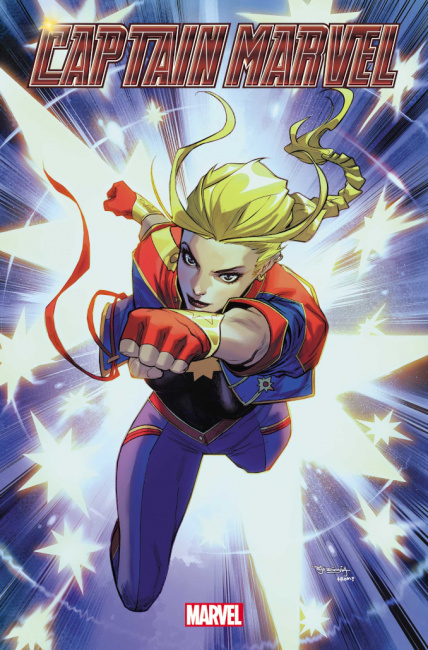 Captain Marvel #1
Publisher: Marvel Comics
Release Date: October 25, 2023
Cover Price: $4.99
Writer: Alyssa Wong
Artist: Jan Bazaldua
Cover(s): Stephen Segovia (Main) and Variants (see below)
Format: 40 pgs., Full-Color
Rating: Teen
Publisher Description
. Following Kelly Thompson's run, writer Alyssa Wong and Marvel's Stormbreaker artist Jan Bazaldua are taking the reins and catapulting Carol Danvers into her explosive next era! October's
Captain Marvel
#1 will be a parade of exciting debuts as Carol sports an all-new costume courtesy of artist Jen Bartel, gains an unlikely partner in a street thief named Yuna, and becomes the target of a dangerously fresh new archenemy known as the Omen! The pulse-pounding first issue kicks off a saga packed with cosmic repercussions as a reality-devouring entity known as the Undone realizes that Captain Marvel is the only hero powerful enough to stop it from annihilating Earth. In the opening arc, witness the Undone's bold plan to take Carol off the board and how it unleashes chaos for Captain Marvel, Yuna, and the entire Marvel Universe!
Fans looking forward to
Captain Marvel
#1 will have an array of dazzling covers to choose from. Check out all nine now, including newly revealed pieces from superstars like Jen Bartel, Joshua "Sway" Swaby, John Tyler Christopher, and more!
Main Cover by Stephen Segovia
Variant Cover by Jen Bartel
Virgin Variant Cover by Jen Bartel (1:100)
Variant Cover By Joshua "Sway" Swaby
New Champions Variant Cover by Paco Medina
Windowshades Variant Cover by Todd Nauck
Stormbreakers Variant Cover by Jan Bazaldua
Negative Space Variant Cover by John Tyler Christopher
Foil Variant Cover by David Nakayama
Variant Cover by Rickie Yagawa (1:25)
Click Gallery below for full-size images.