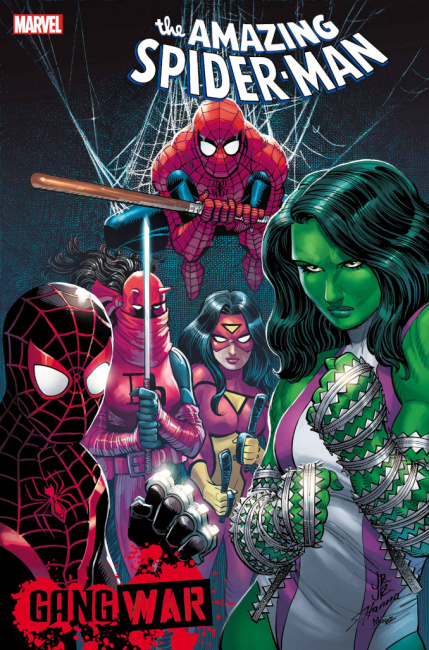 Publisher Description
.
Gang War
, the next Marvel Comics crossover epic, kicks off this November! Spinning out of Zeb Wells and John Romita Jr.'s hit run of
Amazing Spider-Man
,
Gang War
will see a war declared between the gang lords of New York City, causing chaos throughout the Big Apple. As villains fight villains and crime envelops the city, Peter Parker will launches his own war! It's General Spidey at the helm, leading a group of heroes that includes fellow Spider-Man Miles Morales, She-Hulk, Daredevil, and Spider-Woman. Their goal: take down the super-gangs in under 48 hours. But what does Mayor Luke Cage and the city's strong anti-vigilante laws have to say about it? Will Mary Jane, AKA Jackpot, gamble on getting involved? And is Shang-Chi a friend or foe?
Starting in November, prepare for the war with special prelude issues under the banner of
Gang War: First Strike
. Then, the event officially begins in December's
Amazing Spider-Man
#39 before tying into some of your favorite series and launching all-new titles!
Read on to discover what awaits when
Gang War
erupts in December:
Amazing Spider-Man #39
Written by Zeb Wells
Art and Cover by John Romita Jr.
On Sale 12/6
Super-crime is running rampant, and Spider-Man can't solve just one problem at a time. So, Spidey builds a team to take down ALL the super-criminals of New York City in 48 hours. Good luck, Spidey.
Daredevil: Gang War #1 (Of 4)
Written by Erica Schultz
Art and Cover by Sergio Dávila
On Sale 12/13
Elektra Natchios, former assassin turned Daredevil, has been recruited by Spider-Man to stop New York City from tearing itself apart as every mobster and super villain in town go to war! And Elektra is the only thing standing in the way of Hell's Kitchen's annihilation at the hands of a dangerous new gang – the HEAT – whose violent schemes from the pages of
Daredevil
unfold!
Luke Cage: Gang War #2 (Of 4)
Written by Rodney Barnes
Art by Ramón F. Bachs
Cover by Caanan White
On Sale 12/13
This city needs a hero more than it needs a mayor! In the midst of a turbulent
Gang War
, Luke Cage goes undercover and takes his battle to the streets to track down a new generation of Spider-Slayers. But he won't be alone: Cloak & Dagger, Jessica Jones and Danny Rand guest-star!
Miles Morales: Spider-Man #13
Written by Cody Ziglar
Art and Cover by Federico Vicentini
On Sale 12/13
New York is under siege as super villains and criminal gangs violently carve the city up like pie. Miles Morales' job? Save all of Brooklyn from destruction! But there are too many fires for the Spider-Men to put out on their own. The most unlikely super-allies will rise on BOTH sides. And while Miles has his hands full fighting criminals and escaping Scorpion and the anti-super Cape Killers task force, Hobgoblin is making his big move!
Amazing Spider-Man #40
Written by Zeb Wells
Art and Cover by John Romita Jr.
On Sale 12/20
Battle lines are drawn, with Spidey and his crew being the only ones who can save all of New York City from the worst super criminals to ever super criminal! But is Tombstone on THEIR SIDE?! And you won't believe your eyes reading the last page of this issue!
Deadly Hands of Kung Fu: Gang War #1 (Of 3)
Written by Greg Pak
Art by Caio Majado
Cover by David Aja
On Sale 12/27
Gang War
has thrown the crime lords and super heroes of New York into a deadly conflict and as both, Shang-Chi must play each side against each other in a dangerous game of deception! When he became leader of his family's Five Weapons Society, he promised to use it for good, but friends and foes alike have been unsure of his true intentions. The stakes of Gang War will force his hand as he vows to protect Chinatown and use the opportunity to eliminate the Five Weapon Society's biggest rivals!
Miles Morales: Spider-Man #14
Written by Cody Ziglar
Art And Cover by Federico Vicentini
On Sale 12/27
Hobgoblin launches his first strike in the
Gang War
, and he's offering no quarter for Spider-Man! And the Prowler joins the fight — but is he friend or foe!
Spider-Woman #2
Written by Steve Foxe
Art by Carola Borelli
Cover by Leinil Francis Yu
On Sale 12/27
On the trail of the ruthless Diamondback and his mysterious backers, Jess commits a little corporate espionage, which may bury her in a dark corner of her past. Plus, the shadowy new villain Green Mamba prowls for a rematch Spider-Woman may not be ready for!
Check out all December's
Gang War
covers as well as a complete event checklist.
Click Gallery below for full-size images.