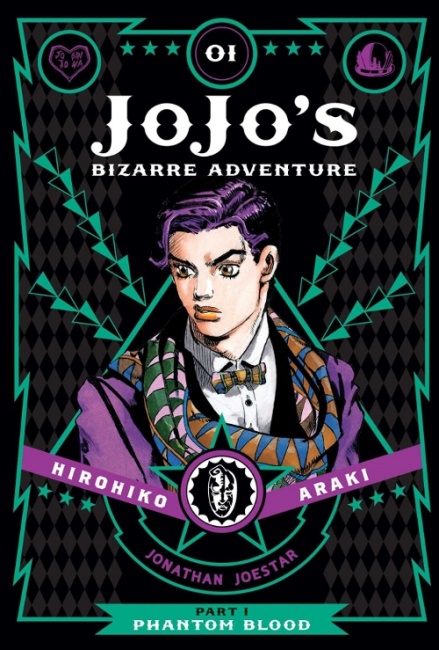 JoJo's Bizarre Adventure: Part 1--Phantom Blood Vol. 1 HC
Publisher: VIZ Media
Release Date: February 24, 2015
Price: $19.99
Creator: Hirohiko Araki
Format: 255 pgs., B&W/Full-Color, Hardcover
ISBN: 978-1-4215-7879-8
Age Ratings: Teen+
ICv2 Ratings: 3 Stars out of 5
Hirohiko Araki's long running manga series
JoJo's Bizarre Adventures
is a multi generational saga concerning a family and its connection to an unearthly power and Phantom Blood goes to the story's very beginnings in the 1800's. Young Jonathan Joestar's comfortable upper class life is torn apart when Dio Brando, the orphaned son of the man who once saved his father's life, comes to live on his estate and becomes his adopted brother. The duplicitous Dio brings with him an irrational loathing of the Joestar family and begins a campaign to destroy Jonathans life and steal their fortune.
JoJo's Bizarre Adventures
is a fighting manga involving creatures called 'Stands' and while there's an incredibly powerful stone mask lurking in the background most of the altercations in this volume are sans any supernatural elements. Which isn't to say they're not brutal and violent because this one violent manga; Dio puts Jo-Jo's dog Danny in the furnace, alive, it's mouth wired shut so no one will hear it's cries. And we get to see it in excruciating detail.
But that kind of brutality is just something you have to accept going into the series. The same way you have to accept the distorted musculature of its oversized characters as well as their unintentionally hilarious names (if "Dio Brando" and "Joestar" aren't bad enough Jo-Jo acquires an ally named "Speedwagon"). Everything about it the series is exaggerated and hyperdynamic; back before the word lost all meaning I would have called it "extreme." If that's the sort of thing you like, you'll probably like this.
--
Steve Bennett: Writer and retail services consultant.