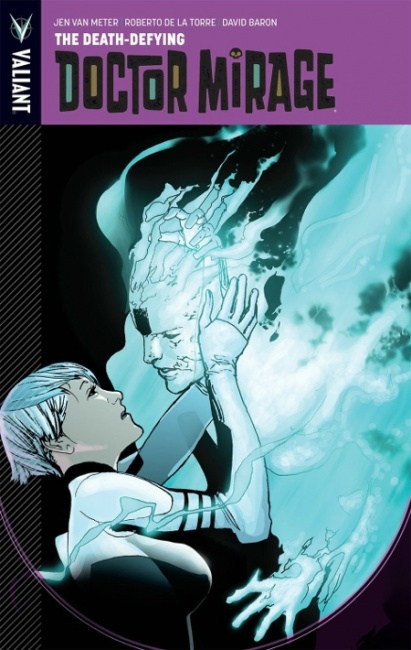 The Death Defying Doctor Mirage TP
Publisher: Valiant Entertainment
Release Date: May 5, 2015
Price: $9.99
Creator(s): Jen Van Meter (writer), Roberto De La Torre (artist)
Format: 128 pgs., Full-Color, Trade Paperback
ISBN: 978-1-9393-4649-0
Age Ratings: Teen+
ICv2 Ratings: 4 Stars out of 5
Shan had always been able to see and speak to the dead but it was only with the help of paranormal investigator Hwen Fong was she finally able to learn how to control these special talents. They married and she became Dr. Mirage, America's best known parapsychologist, until Hwen was killed during an investigation. Afterwards she reluctantly takes on a new client who offers her a particularly dangerous new assignment that offers her the opportunity to finally make contact with the spirit of her husband.
There are any number of comics about paranormal investigators being published today and hard to find an original take on the genre, but writer Jen Van Meter and artist Roberto De La Torre have done just that. They've given us a visually striking afterlife which doesn't conform to any theology that I'm aware of as well as a brittle but relatable protagonist in Shan. In a concession to the superhero genre like the title character from the 80's comic
The Second Life of Dr. Mirage
she wears a striking white one piece. But at least Shan is aware of how ludicrous it makes her look; she says she dresses like a speed skater.
But for the record you needn't be aware of either the original
Dr. Mirage
or anything about the Valiant Universe for that matter to enjoy this version of the character.
--
Steve Bennett: Writer and retail services consultant.