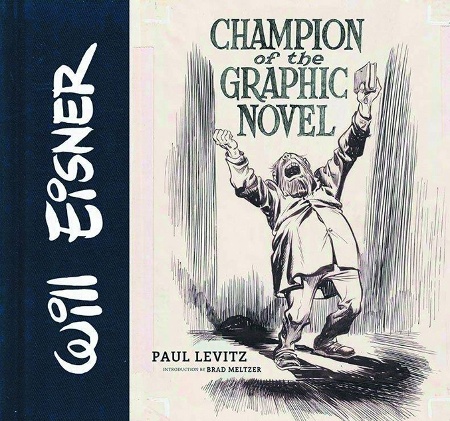 Will Eisner: Champion of the Graphic Novel HC
Publisher: Abrams ComicArts
Release Date: November 2015
Price: $40.00
Creator(s): Paul Levitz, with an introduction by Brad Meltzer
Format: 220 pgs., Color, 10.9" x 11.1," Hardcover
ISBN: 978-1-4197-1498-6
Age Rating: N/A
ICv2 Rating: 5 Stars out of 5
This is the book that Will Eisner's life and career deserves. Even if he didn't invent the term "graphic novel," his popularization of it, combined with his amazing output and support of the art of sequential storytelling, give him the legitimate title of champion of the term and the literary/artistic form.
What he really wanted was for graphic fiction to be treated like just another form of fiction, rather than isolated in a little cranny. He would have loved our current situation, where graphic novels get nominated for mainstream literary awards, and our nation's literary ambassador to youth is a guy who creates comics.
This book gives readers the context for how that is now possible, with some amazing examples of Eisner's work, from his first attempts to break in as a pro while still in high school. In the context of the story told in this book, his
"
breakthrough
"
A Contract With God
is seen to be just another small step along a long road. Before this book, it was easy to think of Eisner as having been
"
gone
"
from comics from the end of
The Spirit
until his later work, but in fact he was demonstrating the use of sequential art to teach things, while working on projects for the defense department, and teaching a new generation of artists the craft that would help drive the current field of comics.
Even his few financial and artistic failures are instructive and interesting, and their inclusion here is important to the history of the field.
Inclusion of the original art from different projects are great study aids for artists, and segments of stories included will help writers and artists who are interested in story structure. Still, the heart of the book is the heart of the man. Readers will come away with an understanding of Eisner as a man and an artist. It's both informative and entertaining, and belongs in every library collection and the collection of every Eisner fan.
For teens and adults, due to content and style.
--
Nick Smith: Library Technician, Community Services, for the Pasadena Public Library in California.