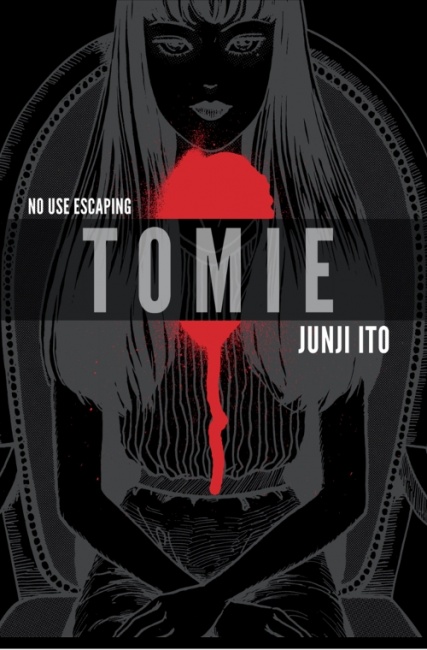 Tomie: Complete Deluxe Edition HC
Publisher: VIZ Media
Release Date: December 27, 2016
Price: $34.99
Creator: Junji Ito
Format: 752 pgs., Black & White, Hardcover
ISBN: 978-1-4215-9056-1
Age Rating: Mature
ICv2 Rating: 4 Stars out of 5
The latest addition to VIZ Media's English-language library of horror master Junji Ito (
Uzumaki
,
Gyo
,
Fragments of Horror
),
Tomie
represents Ito's first foray into manga and a complete edition of comics that span nearly fifteen years of publication.
Already having a lengthy publication history of different "Ito-rations," including English editions by ComicsOne and Dark Horse, this latest
Tomie
collection brings together all three volumes back in print. With a free Halloween ComicFest edition of Tomie chapter "Mansion," VIZ alerted Ito fans and comic retailers of this deluxe hardcover that includes all twenty chapters as well as an afterword by Ito discussing his debut manga.
Readers familiar with Uzumaki or Gyo, particularly the deluxe VIZ formats, may expect a similar cohesive ongoing narrative with
Tomie
, full of psychological horror and self-destructive obsessions. This is not always the case. Instead, audiences witness Ito's evolution and maturation as a visual storyteller as he hones his craft, negotiates and refines the page geography and relationship of characters and their environments, and develops the horrific, disturbing visuals fans are all too familiar with from stories such as "The Enigma of Amigara Fault." While some of the chapters in
Tomie
are continuing stories following the same protagonists, the majority are Ito's experiments with the recycled,
Tomie
gimmick formula in different scenarios. The early stories are definitely rougher as Ito finds his voice and constructs viable horror tales. Some audiences may find Ito's tongue in cheek chapters a sharp departure from the unexpected terrors of Uzumaki, but gems such as "Mansion," "Revenge," and "Adopted Daughter" offer readers hints of Ito's genius that shine in his later works.
Although VIZ has found a strong retailer presence on bookstore shelve, Ito's brilliance should not be overlooked by comic stores wanting to expand their manga offerings or librarians building a solid manga collection. In fact, where comic retailers would be wise to coordinate
Tomie's
publication with other popular horror comics such as
Harrow County
,
Wytches
, and a host of creator-owned offerings from Image Comics and Dark Horse Comics, librarians can develop thematic displays of the horror genre with Ito as their centerpiece.
While
Tomie
may not be the best starting point for new Ito readers, its inspiration for eight horror films and a television series in Japan, its reception of the Umezu Award in 1987, and its role as a launchpad for Ito's career cannot and should not be ignored.
--
Nathan Wilson