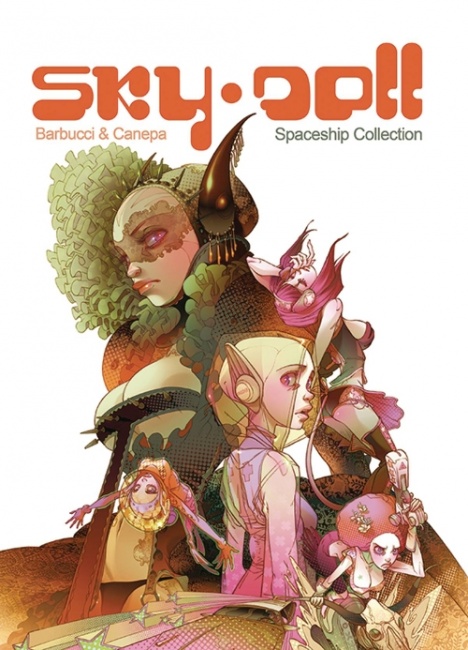 Skydoll: Spaceship Collection HC
Publisher: Titan Comics
Release Date: November 30, 2016
Price: $25.99
Creator(s): Various
Format: 152 pgs., Full-Color, 9-3/4" x 11", Hardcover
ISBN: 978-1-7827-6737-4
Age Rating: Mature
ICv2 Rating: 3.5 Stars out of 5
This anthology consists of various stories taking place in the
Skydoll
universe. For those unfamiliar with the concept, Alessandro Barbucci and Barbara Canepa created a series of SF graphic stories about a rather creepy dystopian world in which sufficiently advanced robots are often used as expensive sex toys… but then, so are most of the people, too. Barbarella meets Emmanuelle, but with robots. The stories in this collection were by writers and artists invited to play in that universe.
Individually the stories are actually quite good, but as a whole they are disjointed and jarring, because the artistic styles vary so widely from story to story. "The Papess's New Clothes" read like something out of a
Judge Dredd
comic, while "Blood Red Shoes" and "White Cinderella" were more serious pieces about the extremes of the society of the series. In addition to the mixed artwork, quite a few pages are devoted to pinups and design sketches, which is visually nice, but reduces the page count of actual story by quite a bit.
So, fans of the original series will probably enjoy this book, but it will be less attractive to newcomers, unless they happen to like the wide variety of included artists.
Because of both human and robotic sexuality, graphic violence and humanoid nudity, this is for adults.
--
Nick Smith: Library Technician, Community Services, for the Pasadena Public Library in California.