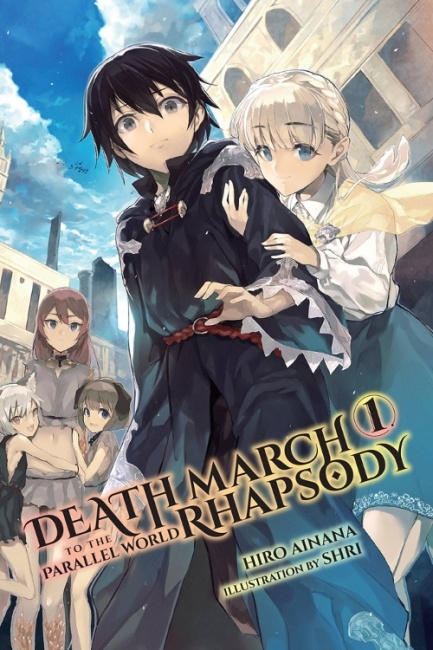 Death March to the Parallel World Rhapsody Vol. 1 TP
Publisher: Yen Press
Release Date: January 25, 2017
Price: $13.00
Creator(s): Hiro Ainana (story) Ayamegumu (art); Shri (character design)
Format: 176 pgs., Black & White, 5" x 7", Trade Paperback
ISBN: 978-0-3165-5276-9
Age Rating: Teen
ICv2 Rating: 3.5 Stars out of 5
This fantasy manga, based on a light novel, has one of the worst, least marketable titles in history, and by the end of the first volume, only part of the title makes sense. On the other hand, it quickly becomes a slightly unusual game-based fantasy story.
Like many other manga, this one takes place inside a game world. There are hints as to how the protagonist got sucked in, but unlike the "and the players all got trapped because that's an easy way to start the story" approach that several other manga take, this one involves an actual plot point. Intriguingly, the main character may not have been the first character dragged into the game world, which is supposedly a new one for a game. The central character, who is actually 29, is injected into the game as a 15-year-old character, which creates some interesting humor, as his mind is a different age from his body. Storywise, there is nothing unique here, but instead it's a well-done story of clichés, but which might develop into something more.
The artwork involves some odd fan service, including a rather busty middle schooler, but other than one bathing scene that highlights cultural differences, not a lot of nudity. There is a bit of monster violence, but nothing beyond the suggested teen rating.
Overall, readers who want an interesting story set in a game world will enjoy this, but the high price and initially clichéd premise may hold it back.
--
Nick Smith: Library Technician, Community Services, for the Pasadena Public Library in California.