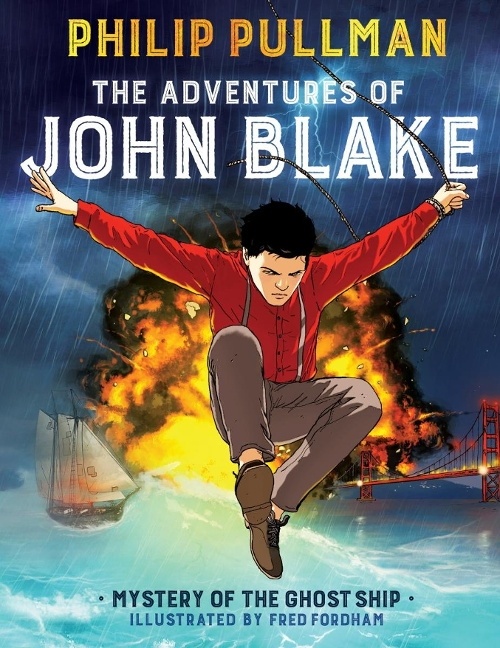 The Adventures of John Blake: Mystery of the Ghost Ship HC
Publisher: Scholastic/Graphix
Release Date: May 30, 2017
Price: $19.99
Creator(s): Philip Pullman (writer); Fred Fordham (illustrator)
Format: 160 pgs., Full-Color, 7.6" x 9.6", Hardcover
ISBN: 978-1-3381-4912-8
Age Rating: 8-12 years
ICv2 Rating: 4 Stars out of 5
Unlike his earlier literary works, this is an almost straightforward adventure story. The only real quirk is that some of the characters don't quite live linearly in time, because they're bouncing back and forth in it, on board a ship. So, it's more correctly a science fiction techno thriller, with one element that might be fantasy.
A ghost ship traveling through time, stolen inventions, evil entrepreneurs and a host of other things liven up this tale, best suited for older kids and young teens.
Fred Fordham's artwork is at its strongest in scenes that are slightly unreal, such as the ones surrounding the events of the ship or, oddly, some of the high-tech scenes involving computer projections. The art is good enough in the more mundane action sequences, and is never bad.
A few plot points are a bit of a stretch. Saying "the Romans were great engineers" in order to explain how a time-lost Roman could easily learn the workings of a modern ship was an example of this. Still, it will work well for the intended audience. Fans of both Pullman's other fiction and readers of adventure fiction from authors like Anthony Horowitz will also be drawn into this.
--
Nick Smith: Library Technician, Community Services, for the Pasadena Public Library in California.