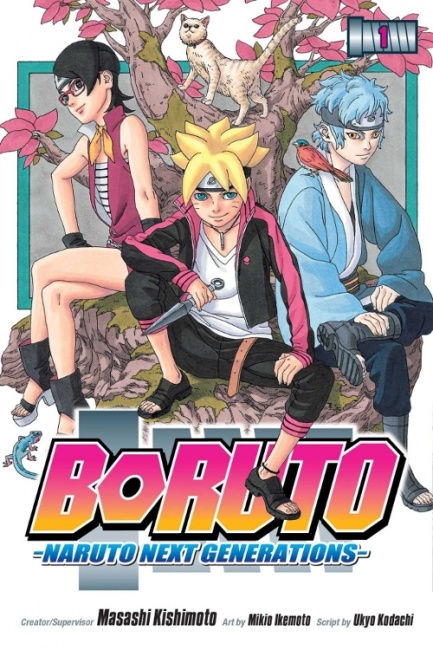 Boruto Vol. 1 TP
Publisher: VIZ Media
Release Date: March 2017
Price: $9.99
Creator(s): Masashi Kishimoto (creator); Mikio Ikemoto (artist); Ukyo Kodachi (script)
Format: 208 pgs., Black & White, Trade Paperback
ISBN: 978-1-4215-9211-4
Age Rating: Teen
ICv2 Rating: 3 Stars out of 5
Compared to the popular
Naruto
manga, this book is a slightly disappointing sequel. In it, Naruto has aged to become sort of a ninja bureaucrat, and techno-ninja gear is the new rage. His son, Boruto, is at the age to take the tests to begin his way up the ladder of ninja-hood, but comes across as a slacker and a twit. Naruto, in the early stories, was interesting, even if you didn't like him. Boruto is less exciting and less interesting at the start of this story. Naruto got in trouble by trying too hard. Boruto barely tries at all.
Worse, he doesn't develop an interesting personality by the end of this book. There are tense moments and a few interesting twists, and the new companion characters are somewhat intriguing. One will make a good competitor and foil for Boruto over the course of the series. The politicking within the power structure surrounding Naruto and Boruto becomes more interesting than Boruto himself, and if this continues, it will be a serious weakness in the series.
A side story about one of the characters is dramatically more interesting than the main story, but a tad confusing because it's not clear when it takes place, or even if it's quite about the same character as in the rest of the volume.
The artwork is comparable to that in the original series, which means not outstanding, but attractive and clear enough for younger readers to follow. Readers who enjoyed the original series will want to give this sequel a try, but unless it improves they may not stick around for another long series.
--
Nick Smith: Library Technician, Community Services, for the Pasadena Public Library in California.