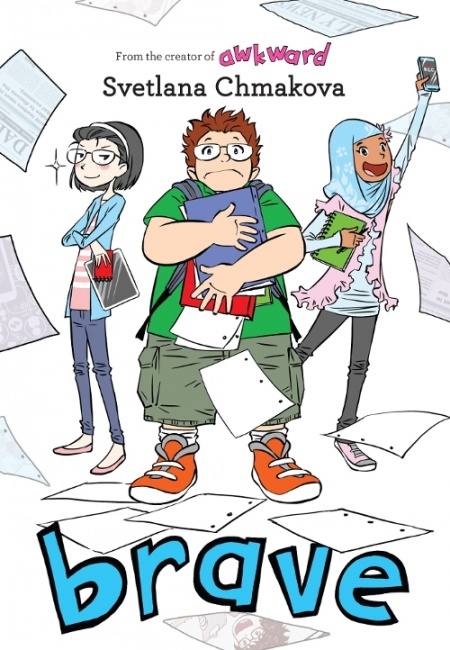 Brave GN
Publisher: Yen Press
Release Date: May 24, 2017
Price: $11.00 (TP) / $24.00 (HC)
Creator: Svetland Chmakova
Format: 248 pgs., B&W, Trade Paperback/Hardcover
ISBN: 978-0-3163-6318-1 (TP) / 978-0-3163-6317-4 (HC)
Age Rating: All Ages
ICv2 Rating: 5 Stars out of 5
This is the second in Chmakova's middle school series which began in
Awkward
. In some ways, this book is even better, because it's about a variety of topics which will make it attractive to readers of all ages.
Jensen is a nice, relatively normal middle school kid who is just trying to get by, make friends, and enjoy life. The thing is, he's not very good at math, isn't very good with social skills, and is easy to make fun of. Even his friends make fun of him, so it can't be so bad, right? Only, why does it make him feel bad? From more direct, obvious bullying to the simpler social issues of having a friend who is the butt of all of a group's jokes, it covers a wide range, but Chmakova doesn't stop there. There are subplots about friendship, students wanting to speak up, learning about yourself and a host of other things, all in a non-preachy style. She even takes a dig or two at a popular type of book that centers on characters you really wouldn't want to hang around with, in real life.
Her art style is influenced by manga, especially the stylized facial expressions common to that form, but not to such an extreme that newcomers will feel lost in the visual shorthand. This book should be in every store and library, and in the hands of every middle schooler.
--
Nick Smith: Library Technician, Community Services, for the Pasadena Public Library in California.