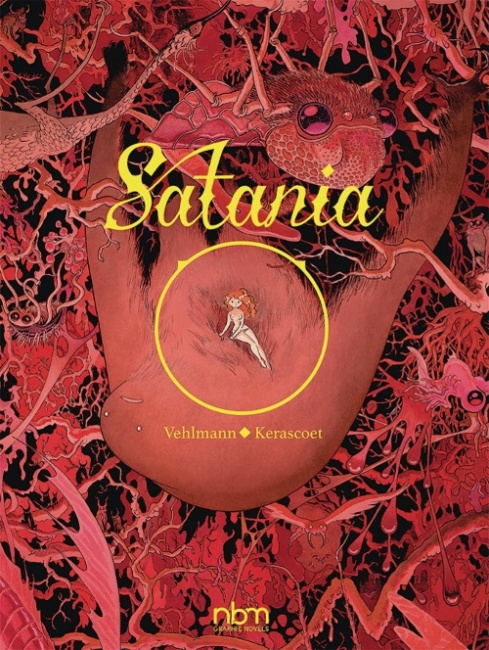 Satania HC
Publisher: NBM
Release Date: November 2017
Price: $24.99
Creator(s): Fabien Vehlmann (writer); Kerascoet (artists)
Format: 128 pgs., Full-Color, 9" x 12", Hardcover
ISBN: 978-1-6811-2143-7
Age Rating: Mature|
ICv2 Rating: 3 Stars out of 5
This is a beautiful but frustrating volume. The cover is striking, with a cartoony nude riding a gigantic sloth through a world of bizarre creatures. This is a fair representation of the way things are in the story, but indicates one of the problems as well. The married couple that makes up Kerascoet has artwork with a rich but ultimately cartoony style. In a light adventure story, this would be wonderful. Instead, this is a serious and grim tale of death and worse, as an underground rescue expedition goes horribly wrong. The style is thus sometimes jarring, like watching a good horror film while listening to a
Loony Tunes
soundtrack.
The story is intriguing as a survival/adventure romp, but the characters are not well-developed. Thus, when one character or another does something truly insane [it happens more than once], the reader isn't invested enough in that character to know if this was predictable or a total shock. Where it matters most is with Charlie, the only female character in the story. We don't know how old she is, and that affects the story. At the start of the story, she is described as a "kid" and from the appearance of her face, body shape and height, she is apparently a young teen. That makes her later ongoing nudity a little iffy, especially the parts that seem gratuitous. Her off-panel sex scene in the story is shocking at the time, as well as totally unmotivated by anything we know of the character. If she's as young as she looks, this is problematic. If not, then it's both poor writing and an artistic error.
In any case, the plot of the story is fascinating, but the characters not so much. They are mostly old clichés glued together in odd combinations, like the crusty cave explorer/naïve priest, or the personalityless background character/dangerous madman. The underground scenery is a gorgeous form of chaos. If you are willing to totally suspend your disbelief in anything vaguely scientific, the adventure story is interesting.
For adults, due to nudity, brutal violence and sexual situations.
--
Nick Smith: Library Technician, Community Services, for the Pasadena Public Library in California.