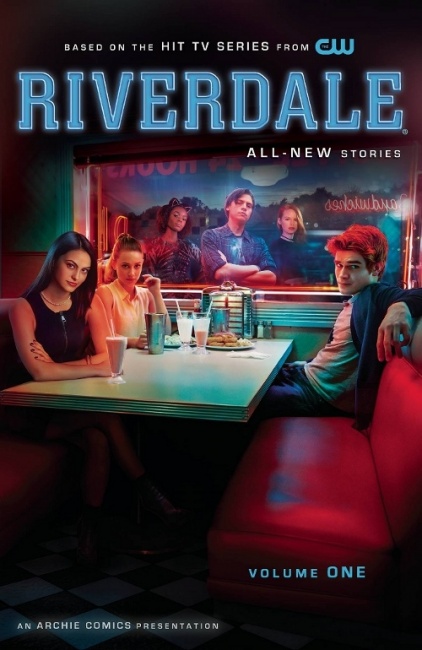 Riverdale Vol. 1 TP
Publisher: Archie Comic Publications
Release Date: October 4, 2017
Price: $17.99
Creator(s): Roberto Aguirre-Sacasa (writer), Various (artists)
Format: 144 pgs., Full-Color, Trade Paperback
ISBN: 978-1-6825-5958-1
Age Rating: Teen
ICv2 Rating: 3.5 Stars out of 5
This is a collection of the
Riverdale
one-shot and the first three issues of the ongoing comic, with the bonus inclusion of the first issue of the relaunched regular Archie series. This last provides context, but also a jarring reminder of just what the
Riverdale
television series is based on. Still, this is a comic book adaptation of a television remake of a comic book series, thus already circular.
In
Riverdale
, each of the classic Archie characters is reimagined, and not always for the better. While the updated versions of Archie, Betty, Veronica and even Jughead are very interesting, the weird new version of one of the teachers is both creepy and painful to witness. This volume is largely a prequel to the television series, with the back stories that go with some of the events of the first episode. The book consists of character studies, as each shows a personality at its best or worst in times of stress.
This version of Archie Andrews shows him as both physically attractive and having a decent personality, something that the early comics lacked. The other updates are similarly interesting, with Jughead, Betty and others already more fleshed out than in the older comics. Because the show is on the CW, the mean girls (other than Veronica) are much meaner, and the tough guys are tougher. Only Pop's diner remains largely untouched, a reminder that this is a small town story at heart.
Fans of the show will find the stories in this volume to be of interest. Fans of the older Archie comics who are not fans of the show may not. For teens and up due to slight sexual content.
--
Nick Smith: Library Technician, Community Services, for the Pasadena Public Library in California.