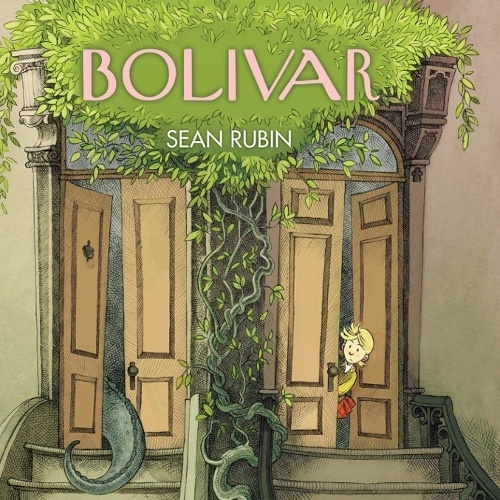 Bolivar HC
Publisher: Archaia
Release Date: November 15, 2017
Price: $29.99
Creator: Sean Rubin
Format: 224 pgs., Full-Color, Hardcover
ISBN: 978-1-6841-5069-4
Age Rating: 8 and up
ICv2 Rating: 5 Stars out of 5
Sean Rubin's
Bolivar
is a hybrid between a picture book and a graphic novel, combining the best elements of both in a delightful tale of a young girl and the dinosaur who lives next door. It's also a beautifully drawn love letter to New York City, filled with the sort of details that will delight those who know the quirks of the city and amuse everyone else.
Sybil and Bolivar live on the Upper West Side. Sybil goes to school every day, while Bolivar lives the life of a stereotypical New Yorker: He eats corned beef sandwiches in the local deli, picks up the
New Yorker
at the newsstand on the next block, takes the subway downtown to catch a concert, and goes to the museum on Saturdays. No one notices he is a dinosaur except Sybil, who chases after him with a Polaroid camera but is always snatched away just before she gets the shot. Bolivar's quiet life starts to unravel when he gets a parking ticket—the traffic cop doesn't notice he's not a car—and goes to City Hall to appeal it. He is mistaken for the mayor and transported to the natural history museum where, all at once, everyone realizes he is indeed a dinosaur and starts to run—everyone including Bolivar himself, who isn't the swiftest dinosaur in the museum. While the first half of the book is fairly quiet, with Bolivar going about his business and Sybil stalking him, the action picks up in the second half, with a goofy chase scene set in the museum.
The book alternates between comics and blocks of text that sit alone on the page. The text is written in picture-book style, with a simple vocabulary and sentence structure, and the rhythm is perfect for reading aloud. The comics are more complex, especially because what they are depicting is at odds with the bland statements of the text. The pictures are filled with fun little details, and the alert reader can often spot Bolivar's tail or crest as he slips out of sight.
Because of its unusual format,
Bolivar
is likely to appeal to parents as much as kids. Square and oversized, it has the outer shape of a picture book but far more pages, so it's thicker and feels heavier. Rubin's art has a timeless feel, a bit like Maurice Sendak, and his version of New York is timeless as well. With the holidays around the corner, this book would be a perfect gift for a child, but the gorgeous illustrations make it a good pick for many adults as well.
- Brigid Alverson