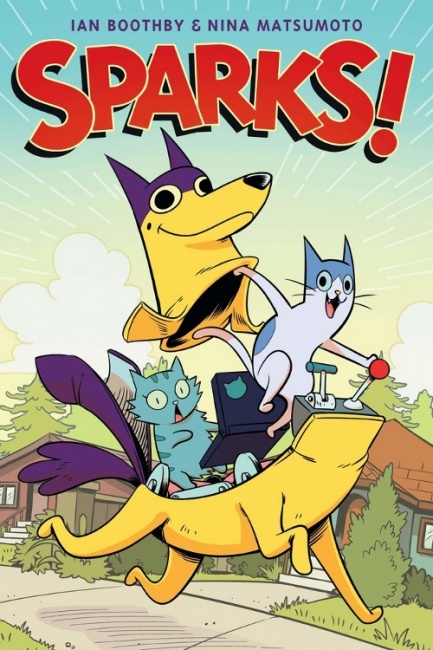 Sparks! GN
Publisher: Scholastic/Graphix
Release Date: February 27, 2018
Price: $12.99 (TP)/$24.99 (HC)
Creator(s): Ian Boothby (writer), Nina Matsumoto (artist)
Format: 192 pgs., Full-Color, Trade Paperback/Hardcover
ISBN: 978-1-338-02946-8 (TP) / 978-1-338-02947-5 (HC)
Age Rating: 7-10
ICv2 Rating: 5 Stars out of 5
Sparks!
puts its premise right on the cover: Two cats dress up as a dog in a superpowered suit. August, who is brilliant but terrified of going outside, and Charlie, who is brave but reckless, escaped from a lab where they were test subjects. Thanks to August's internet skills, they quickly amass a fortune and buy their own house, where they are tended to by a fellow escapee, a sentient litter box. The cats keep their identities a secret and suit up when trouble calls. Little do they know, though, that the baby they rescued from a well is actually a space alien bent on conquering the earth by taking control of its animals.
With cute cats, a hilariously evil baby villain, and a sentient litter box/butler, Sparks! has a Saturday morning cartoon feel to it, helped along by Matsumoto's smooth, cartoony style. Her cats are adorable, her mechanical dog feels real, and her humans (and aliens) are totally goofy. August's fear of going out brings a bit of emotional realness to the story, as well as a conflict, because inevitably she has to conquer it to rescue her friend.
Both creators are kids-comics veterans: Boothby is the longtime lead writer for
The Simpsons
and
Futurama
comics, and Matsumoto has worked on
The Simpsons
comics and is the creator of the manga-style graphic novel
Yokaiden.
Matsumoto and Boothby collaborated with Andrew Pepoy on the Eisner Award-winning short story "Murder He Wrote" in
Treehouse of Horror
#14.
Sparks!
is a perfect pick for elementary school readers, and with its colorful mix of superheroes, sci-fi, and cute cats, it should have broad appeal.
--Brigid Alverson