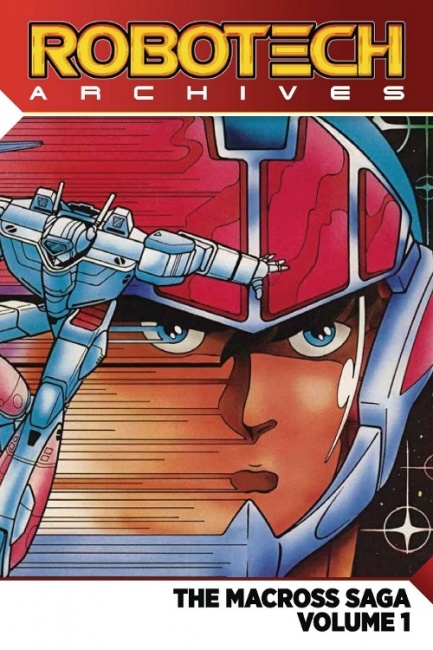 Robotech Archives Omnibus: The Macross Saga Vol. 1 TP
Publisher: Titan Comics
Release Date: April 11, 2018
Price: $24.99
Creator(s): Carl Macek, Jack Herman (writers); Svea Stauch & Various (artists)
Format: 365 pgs., Full-Color, 6"x9", Trade Paperback
ISBN: 978-1-7858-6294-6
Age Rating: N/A
ICv2 Rating: 3 Stars out of 5
This book is a tremendous piece of anime and manga history, but not a great read. Carl Macek, an American writer, was hired to turn a group of short anime series into a unified whole, and also to write the American comic book adaptation of the stories, thus creating Americanized anime and manga, of sorts. This volume is a collection of a short graphic novel and eleven issues of the comic book version. That is enough to get a good idea of the early story arc, but leaves the reader hanging on some important parts of the story.
The story itself is a weird mix of military SF, alien first encounter gone wrong, teen romantic comedy and slice-of-life survival story, all woven together. For example, a city is rebuilt aboard a huge space ship, and in the middle of an ongoing war, they have a beauty contest, just because, for one story. Humans interacting with very old alien high technology that landed on Earth, and then fighting descendants of those aliens, seems to be at the heart of the story, but this story arc seems to have lost track of the idea that there are other bad guys out there, or at least there had been. Still, it's a fun action story.
The bad news is that the artwork was B-level even by 1980s anime and comic book standards, and some of the gags and story lines were old-fashioned even then. While Macek tried to keep the combinations of serious drama and offbeat humor under control, the source material just had a lot of it, and that often worked against the series. The combination is a piece of comic book history that will thrill those already familiar with the work, but will attract only a small number of new readers. Those may be more attracted to the new stories being created by Titan Comics.
Moderate violence, but little gore. Suitable for older kids and up, but adults may be the main audience for this book.
--
Nick Smith: Library Technician, Community Services, for the Pasadena Public Library in California.