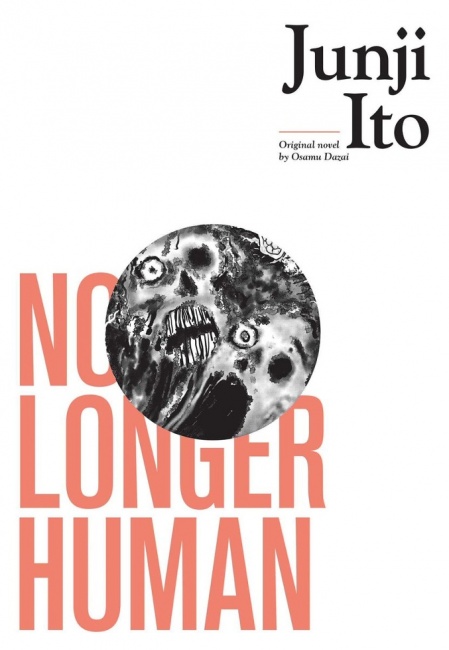 No Longer Human HC
Publisher: VIZ Signature
Release Date: December 19, 2019
Price: $34.99
Creator: Junji Ito (based on a novel by Osamu Dazai)
Format: 616 pgs., B&W, 6"x8", Hardcover
ISBN: 978-1-9747-0709-6
Age Rating: Mature
ICv2 Rating: 4 Stars out of 5
The original novel may have been the world's longest suicide note, since the author apparently killed himself the month after completing it. Osamu Dazai had made other suicide attempts, but was finally successful in 1948. Supposedly, at least parts of this novel are autobiographical, and if so, he was a very creepy person. At least, the central character of this story is a very creepy person, in ways that made Junji Ito the perfect person to turn the novel into a manga. His ability to tell horrific stories is not limited to adapting horror fiction. He can find and illuminate the horrific aspects of a person in normal life settings, and do so with great skill.
The story is about a man who has very few redeeming qualities, at least based on his self-appraisals, and yet somehow manages to attract women at a remarkable rate, even when he seems to have little to offer them in return. His only redeeming quality is that he has at least some artistic talent, and earns money with his drawing. His more elaborate pieces, though, are weird and disturbing, like something from Rod Serling's
Night Gallery
. He uses his talents and his attractiveness in ways that are unpleasant at best. On the other hand, the story is riveting, as the reader is on edge to see when the next train wreck will occur, as it feels that there must be one nearby at any given moment.
That said, the book is grim, depressing, and heavily "literary" in ways that some readers will not enjoy. It's as if Stephen King and Herman Melville had collaborated on a biography of Vincent Van Gogh. It becomes a matter of waiting for the next bad thing to happen, even though you know that the story along the way will be well-created.
The story is very much for adults, due to sexual and violent activities within the story.
--Nick Smith: Library Technician, Community Services, for the Pasadena Public Library in California.