MicroMacro: Crime City
Publisher: Edition Spielweise (distributed by Pegasus Spiele)
Release Date: January 2020
MSRP: $29.99
Designers: Johannes Sich
Number of Players: 1 or more
Playing Time: 15 – 45 minutes per case
Product #: 59060E
Age Rating: 8 and up
ICv2 Rating: 4 Stars out of 5
Finding the clues to solve a mystery can feel a little bit like looking for a needle in a haystack. But in
MicroMacro: Crime City,
it's more like finding a needle in a needle-stack. In this whodunit-meets-
Where's Waldo
, players try to identify clues on an enormous poster-map blanketed with details—including more than 16 complete cases blended together.
Summary
: You need a big table to play
MicroMacro: Crime City
: Opening up the board is like unfolding a pre-GPS road map, complete with accordion-fold, measuring about 45 inches by 30 inches. Then you're confronted by a richly-detailed black and white illustration of a "typical" urban area populated by an uncountable number of tiny people going about their lives: working, dining, attending concerts and art gallery openings… and committing crimes.
Solving those crimes is the goal of the game, ranging from the relatively innocuous theft of a top hat to murder most foul, all illustrated in a surprisingly cheerful, cartoony way considering the gruesome subject matter. The crimes themselves are not depicted, but clues to solving them are, cleverly designed to show multiple moments going backward in time. This allows the players to "follow" the path of the victim (and perpetrator) as they travel across the city, revealing hints as they go along.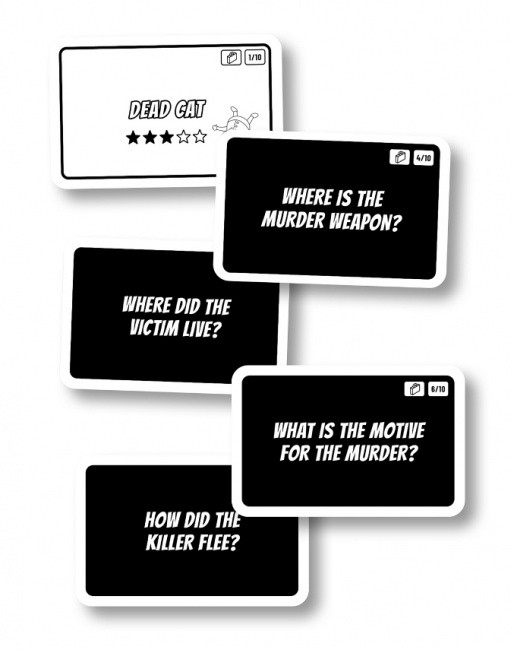 The game comes with 16 cases, each presented as a small deck of 5-12 cards. The first card sets the scene and introduces the victim, then the players are off to find the crime scene hidden in the map. The rest of the deck helps guide the "investigators" forward and backward in time as they try to locate each appearance of their victim and suspects hidden in the busy activity of the city. (The rules even offer a greater challenge for those who wish one, as you can play using only the first card from a case and refer to the rest of the deck only if you get stuck.) Cases are helpfully rated from 1 to 5 stars in terms of difficulty, and the rules hint that there are even more secrets hidden to be revealed later.
Originality
: Cooperative mystery and puzzle-solving games are very popular right now, be they "escape rooms" or crime-solving, mostly built around a series of riddles and mental challenges. But few of them are built exclusively on observation skills and old-fashioned deductive reasoning.
MicroMacro: Crime City
challenges the players ability to identify tiny details and link the dots together in a chain of events. Fortunately, they include a surprisingly-useful magnifier for those of us whose eyes are not as young as they used to be.
Presentation
: My main issue with the presentation of the game is the very narrow color palette used on the box: only black, white, and red plus a couple logos. In fairness, everything inside the box is black and white, so in a way the box is honesty in advertising, but I worry that it will be too easy for customers to overlook on a busy game store shelf.
I do have to give kudos to whoever had the brilliant idea of putting a sample mini-mystery right on the box, though! Hidden in the illustration is the mystery of the murdered burger vender, giving would-be players a neat way to experience what the game offers before buying. The descriptions and product details are well-conceived and nicely presented, and the box is only slightly larger than it needs to be to hold everything.
Quality
: At first I was concerned about the nature of the playing-map, as it really is the same as an old-style road map: I was concerned that it would tear too easily. But since it isn't "handled" during play, it does not seem to be an issue, and it could be wall-mounted if desired. The cards are nice quality, and each case is supplied with a little translucent envelope for easy sorting and storage. The rules, minimal as they are, are well written and easy to follow, and players can get up to speed very quickly. However, I wish that the publisher had tossed in a dozen colored clear tiddly-winks in the box to mark clues, rather than recommending that players find their own tokens for the purpose.
Marketability
: It could be argued that
MicroMacro: Crime City
is not really a game at all. It is more of a puzzle. It's fully cooperative, though players could "race" to find clues, I suppose. For people looking for a competitive or "game like" experience, there is little here to draw them in. But cooperative puzzle games are popular, and this one offers a somewhat different version of that experience that should be attractive to that crowd.
Overall
: The thing that surprised me most about
MicroMacro: Crime City
was how much fun we had playing it. I've always been a fan of "hidden picture search" activities, true, but it was neat being able to follow the various characters through their day, and the illustrations have little bits of humor tucked away to discover during the cases. It's remarkable how the artist was able to present so many different storylines in a single picture without them getting in the way of one another. The playing time is good, with satisfying play that doesn't overstay its welcome.
It might have been nice if the map was in color instead of black and white, but I'm not convinced if that would make the mysteries easier or harder. Besides, with the popularity of coloring books these days, it can double as a coloring activity once the mysteries have been solved (or even while solving them!). As much as I enjoyed playing it though, I worry that the appeal of this kind of activity may not be broad enough for
MicroMacro: Crime City
to become a big hit. And that's why I'm giving this game 4 out of 5.
--William Neibling