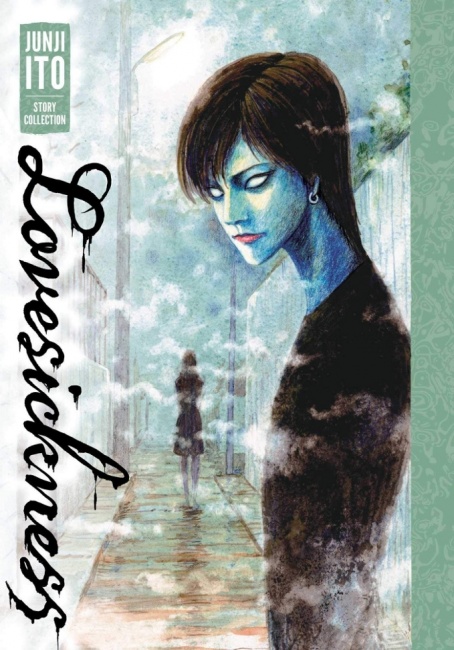 Lovesickness: Junji Ito Story Collection HC
Publisher: VIZ Media
Release Date: April 21, 2021
Price: $22.99
Creator: Junji Ito
Format: 408 pgs., B&W, Hardcover
ISBN: 978-1-9747-1984-6
Age Rating: Teen+
ICv2 Rating: 3.5 Stars out of 5
If this had been split into two separate volumes, the first would have earned a higher rating, and the second a lower one. That is because the first half of the book is a tightly woven, really weird horror story that is comparable to a really good
Twilight Zone
-type of scary story. The second half consists of a couple of different tales, more directly blood-and-guts horror, and the two styles are jarringly different enough that it combination was slightly unfortunate.
In the second half, the really crazy, really creepy family would be right at home in a slasher horror movie, but not a very believable one. It's just too difficult to believe that a group of people this crazy could carry on in this fashion without being noticed. The first half's story, though, focuses on a town with an odd local custom, that of asking strangers at a street corner to tell you your fortune, based on the first thing that comes into their mind after hearing whatever you want to tell them. The problem is that some of those seeking fortunes have begun to commit suicide, and a lot of them have supposedly encountered the same street-corner stranger, a young man that no one seems to recognize. Once you combine that with the back history of some of the characters, a weirdly obsessed woman who wants fortunes and advice but doubts both, and the childhood guilt of a now-teen central character, it gets really interesting. Only the bloody suicides betray the Junji Ito touch, as he does like to include gruesome deaths. The fanatics who want to find the "beautiful boy" with the deadly fortunes are a weird and creepy touch, but their madness is only slightly in excess of that of some of the "normal" characters as the story progresses. At some point they have crossed the boundary from life as we know it into some other realm, but their obsession keeps them going.
In any case, the "fortunes" tale of the book deserves four stars, but the later stuff only three. The gore means that younger readers or anyone slightly squeamish should stay away from this, and probably from any other of the works of Junji Ito.
--
Nick Smith: Library Technician, Community Services, for the Pasadena Public Library in California.