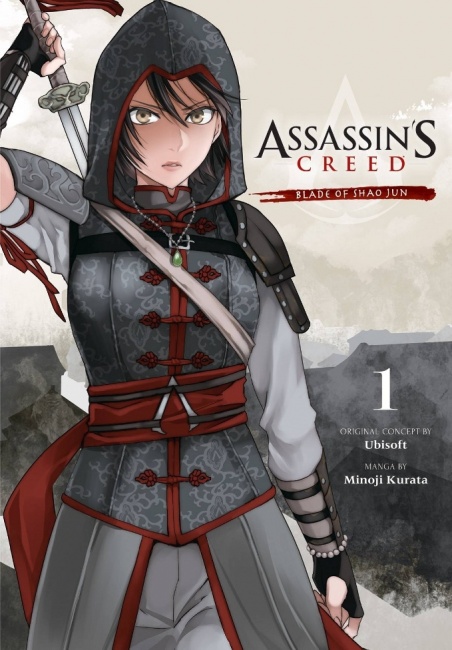 Assassin's Creed: Blade of Shao Jun Vol. 1 TP
Publisher: VIZ Signature
Release Date: February 17, 2021
Price: $14.99
Creator: Minoji Kurata
Format: 160 pgs., Black & White, 5.75" x 8.25", Trade Paperback
ISBN: 978-1-9747-2123-8
Age Rating: Older Teen
ICv2 Rating: 4 Stars out of 5
Based on material from the
Assassin's Creed
video game series, specifically the
Chronicles: China
installment, this is an interesting action/adventure tale taking place in both modern times and the 16th century. For those who haven't experienced any of the
Assassin's Creed
story in the past, this may not be the best jumping-on point, because the whole idea of mental time travel into the minds of your ancestors is less than obvious. Also, for anyone familiar with history but not the computer game, the casting of the Assassins as the good guys and the Templars as the bad guys can be a little confusing. Moving both factions into 16th century China is even more confusing, but once you get past that, this is an interesting story, a quest through time for a lost artifact of power, interwoven with a quest for revenge and perhaps justice.
The weakest part of the story is the present-day interaction of Lisa with Dr. Kagami. Because we only hear about Lisa's violent outbursts, it is difficult to get a handle on just how bad they were, or how they were connected to her ancestor, Shao Jun. Perhaps that will be addressed in future volumes, as this is the first volume of a series.
The historical parts of the story, which is where the action takes place so far, is more convincing and interesting, as the story progresses so far. The violence in the story is what pushes the rating to "older teen," with scenes of brutality and torture. In black and white, the gore isn't over the top, but it's still there. The artwork is very good, but not ground-breaking. It works very well with the story, and with the style of action used.
--
Nick Smith: Library Technician, Community Services, for the Pasadena Public Library in California.