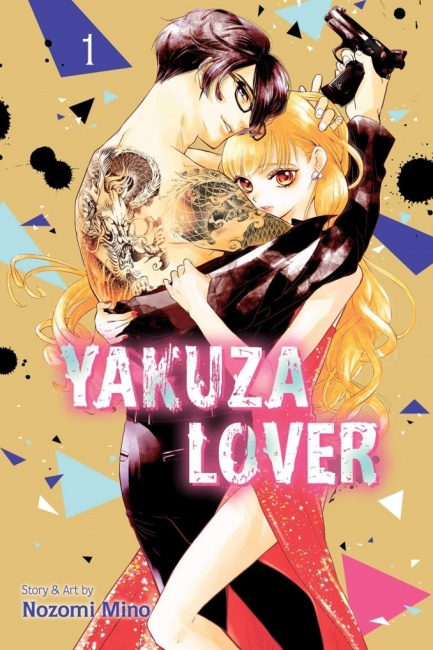 Yakuza Lover Vol. 1 TP
Publisher: VIZ Media
Release Date: June 2, 2021
Price: $9.99
Creator: Nozomi Mino
Format: 200pgs., Black & White, 5" x 7.5", Trade Paperback
ISBN: 978-1-9747-2055-2
Age Rating: Mature
ICv2 Rating: 3 Stars out of 5
This book will find an audience, but it may not inspire a solid following as a series. The basic premise is that Yuri, a 20-year-old college student, falls madly in love with Toshiomi Oya, an "older"
yakuza
syndicate underboss. Based on things said in the story, he's probably forty to fifty years old, at least, but is drawn to look barely older than she is. That difference between text and art is distracting.
Okay, so the setup is like one of those "mature" romance novels with lots of sex scenes. The difference is that in those, at least, there is some character development. In this first volume, we learn more about the "bad boy" male lead than about the female main character. He's a dangerous enough individual that even Russian Mafia guys are afraid of offending him, but is also a tender romantic sometimes. His "business" and position of authority are important to him, but he's fascinated with this young woman, and seems genuinely attached to her. On the other hand, his saying things like "I want to see you again soon, if I'm still alive" become a bit creepy when repeated. She's left such a blank slate that we don't even know her college major or anything about her background. Actually, what we do know is that she's clearly obsessed with this older man, and that they mutually enjoy their sexual encounters.
Other than the weird ageism in the rendering of the male lead, the artwork is excellent. Even the drawings that make up his tattoos are beautifully done. If the same care had been put into the writing and into making the characters just a tad more believable, the book could have been given a higher rating.
--
Nick Smith: Library Technician, Community Services, for the Pasadena Public Library in California.