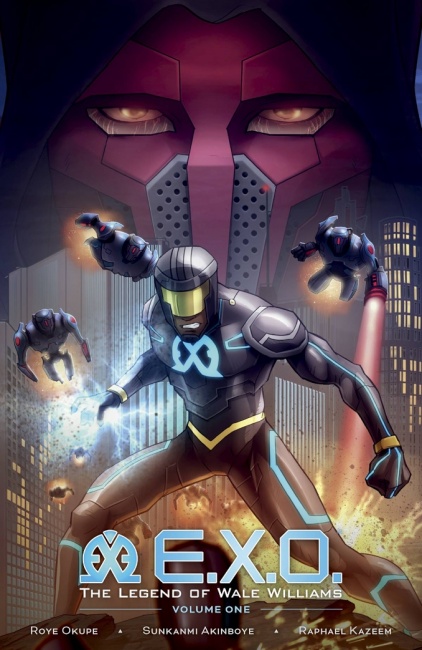 E.X.O.: The Legend of Wale Williams Vol. 1 TP
Publisher: Dark Horse Comics/YouNeek Studios
Release Date: October 20, 2021
Price: $24.99
Creator(s): Roye Okupe (writer); Sunkanmi Akinboye (artist)
Format: 312 pgs., Full-Color, 6-5/8" x 10-3/16", Trade Paperback
ISBN: 978-1-5067-2302-0
Age Rating: 12+
ICv2 Rating: 4 Stars out of 5
For the past couple of years, YouNeek Studios has been trying to gain a foothold in the American comics market. The company, based in West Africa, has been drawing on the talent available there, as well as creating stories drawn from historical and fantasy elements of the cultures there.
Now, with their partnership with Dark Horse Comics, the comics and graphic novels will be more easily available. Of their titles, this is perhaps the most typical superhero story, since it's basically their version of an Iron Man-type character. Not an official superhero, as such, but someone with a high-tech suit of armor forced to battle for a lot of reasons.
This means that this story is not as original in concept as some of the other YouNeek titles, but may be a good entry point for new readers, who might then try out another title if they like this one. The artwork is good, for a superhero story, and the writing provides a set of locations that are
not
versions of New York. Readers may be momentarily puzzled by bits of slang, not all of which are translated, but anyone who has been reading the wave of science fiction from Nigeria and Ghana will understand most, and know that the precise meanings of any others isn't important to the story.
This volume, establishing the main character of a new series, is an old-school good-vs-evil romp, but with high-tech at every turn. If this story leads readers to other things from this same company, or other international publishers, that would be a bonus, but it's worth reading on its own merits.
The age rating seems appropriate, with superhero-type violence.
--
Nick Smith: Library Technician, Community Services, for the Pasadena Public Library in California.