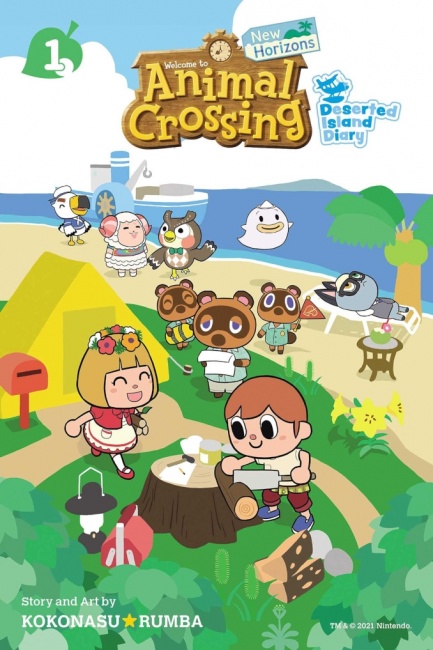 Animal Crossing: Deserted Island Diary Vol. 1 TP
Publisher: VIZ Media
Release Date: September 15, 2021
Price: $9.99
Creator: Kokonasu Rumba (Writer & Artist)
Format: 128 pgs., Black & White, 5.5" x 7", Trade Paperback
ISBN: 978-1-9747-2592-2
Age Rating: All Ages
ICv2 Rating: 3 Stars out of 5
This manga volume is only partly that. In fact, roughly a third of the book is actually a character guide and game guide dedicated mostly to characters who have not yet shown up in the manga or things that haven't happened yet, but exist in the Animal Crossing game… and that is much of the weakness of this book. It reads like a walk-through of starting out a game of
Animal Crossing
, but with odd slapstick humor interfering with actually learning the game. Or, it's a manga based on characters in the game that keeps getting interrupted with explanations of how the game works.
That being the case, it ends up not being great at either one, and will probably be best at appealing to new players of the game who just want a little something to read, while helping them to learn things about the game.
Also, the humor may not translate uniformly for an American audience. For instance, a character who spends the whole story asleep and whose words appear as snot bubbles is very uncommon in comics here. As a result, it doesn't come across as all that funny in the story. Still, there is some good comedy in the story, mostly based on the failed expectations of the main characters, who thought they were going to an already-built resort, only to find that they've booked time on a deserted island. Think of a cross between
Gilligan's Island
and
Minecraft
, but with talking animals and lots of slapstick.
So, it's an interesting attempt at something not usually done, but may not appeal to some readers. Suitable for all ages, but younger kids may not get some of the jokes.
--
Nick Smith: Library Technician, Community Services, for the Pasadena Public Library in California.