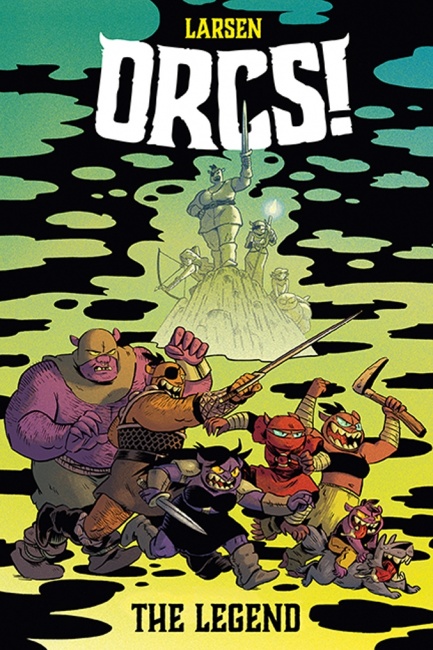 Orcs: The Legend TP
Publisher: BOOM! Studios
Release Date: November 2021
Price: $14.99
Creator: Christine Larsen
Format: 256 pages, Full Color, 6" x 9", Trade Paperback
ISBN: 978-1684-15671-9
Age Rating: 9-12 per publisher
ICv2 Rating: 3.5 Stars out of 5
Oddly, I think that the publisher has mistaken the appeal of this book. While listed as a juvenile graphic novel, it has levels of humor that will also appeal more to teens and adults, especially those who are familiar with either the Tolkien or the
Dungeons & Dragons
versions of Orcs as a concept. This mis-marketing may hinder the spread of this book to readers who will appreciate it.
In this story, the central characters are misfits, even for Orcs. After an awkward problem, this group is exiled until they can prove themselves. More likely King Hrograhgah, the leader of the Orcs, hopes they'll get themselves killed before coming back. That was pretty mean of him, but it's not every day that Orcs have to deal with the problems caused by... well, no spoilers, but let's say that acorns are involved.
This story was originally published in monthly comics, collected here. The artwork is good, but not earth-shatteringly wonderful. The writing is what carries this story to its bizarre, twisted and funny conclusions.
The book won't appeal to everyone. Readers with no background in medieval fantasy stories just won't get some of the humor, or the basic concept of why these characters are worth reading about at the start of the story. On the other hand, readers who stick around will have an enjoyable time. Just don't be afraid to hand it to a reader older than twelve years old.
--
Nick Smith: Library Technician, Community Services, for the Pasadena Public Library in California.