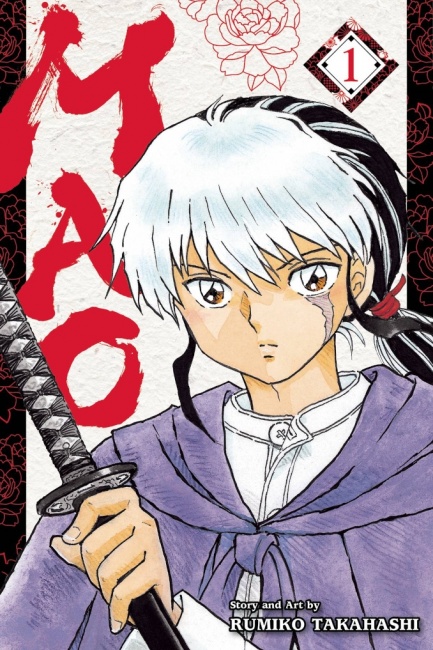 Mao Vol. 1 TP
Publisher: VIZ Media
Release Date: September 15, 2021
Price: $9.99
Creator: Kokonasu*Rumba (Writer & Artist)
Format: 192 pgs., Black & White, 5.5" x 7", Trade Paperback
ISBN: 978-1-9747-2052-1
Age Rating: Older teen, per publisher
ICv2 Rating: 4.5 Stars out of 5
Manga creator Rumiko Takahashi is a legend in the field, having created multiple popular manga over the last 40+ years.
Maison Ikkoku
,
Inuyasha
and
Ranma 1/2
are her three best-known manga series for readers in North America.
Of the three, this is closest to
Inuyasha
in style. It involves what appears to be travel back in time, from a realistic modern Japan to an early 20th century equivalent that seems to have magic, demons, curses and some of the other trappings of historical fantasy manga.
There is nothing new or innovative in this manga, but the creator still makes it a very good story, even if it seems derivative of some of her earlier work. There are already several mysteries built into the story, several definitions that are just begging to be given, and a whole bunch of weird things going on. Going back over a century to meet a very strange person who might be an exorcist, might be a healer, and might be a hero, Nanoka's "real world" history is strange enough that this seems almost reasonable. A flashback at the start of the story shows her surviving a horrific accident, but it's not until later that the reader learns that there is more to the story than just that.
Because she's already done more serious stories, including
Inuyasha
, the artwork here is very good for what it needs to do, and handles the strange and uncanny very well, without wandering into the horrific of some modern manga artists. Even when something in the story is weird and horrifying, it isn't dwelt on for the purpose
of
being weird and horrifying.
This is the start of what could turn out to be another classic series, if the story develops from this starting point. Suitable for older teens and adult, but some younger teens could handle it if they're used to dark fantasy and horror imagery.
--
Nick Smith: Library Technician, Community Services, for the Pasadena Public Library in California.