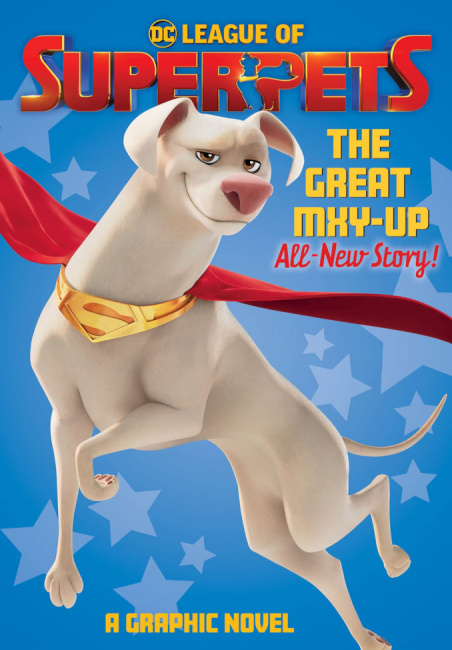 DC League of Super-Pets: The Great Mxy-Up TP
Publisher: DC Comics
Release Date: July19, 2022
Price: $9.99
Creator(s): Heath Corson (Writer); Bobby Timony (Artist)
Format: 160 pgs., Full Color, Trade Paperback
ISBN: 978-1-7795-0992-5
Age Rating: 8-12 years
ICv2 Rating: 4 Stars out of 5
This appears to be a direct sequel to the story told in the forthcoming animated film about the animal sidekicks to the DC superheroes. My only quibble is that one of the ones included was NOT originally an animal sidekick "Chip" was a fully intelligent alien in the DC comics world, but he happened to look like a squirrel from Earth, so he got demoted for this series.
Because this
is
a sequel, two of the characters apparently become sidekicks during the film. That, and spoilers involving what may be one of the film's villains, may confuse readers who have not yet seen the film, but it's still a good story, with both action and humor.
Because none of the Justice League apparently think of their animals as intelligent, they're considered just pets or sidekicks, even the ones with substantial super powers, such as Superman's dog Krypto. This leads to running gags about the security system of the Justice League meeting room, but also to unusual problems when one of Superman's enemies shows up, Mr. Mxyzptlk. While cartoony, this character is powerful and dangerously chaotic, but the easiest way to get rid of him is to get him to say or spell his name backwards, which makes him go away for a period of time and undo any damage he has caused on this "visit" to Earth.
In this case, the animal sidekicks have to try to save the day, but the human heroes also learn a series of lessons about not underestimating their animal companions.
Anyone with a fondness for animals, super or not, will find this story to be a lot of fun. If the movie is of this level of quality, it should be very enjoyable, but even on its own, readers who enjoy the DC superheroes will enjoy most of these animal sidekicks and their adventures. From this book it's not clear why Wonder Woman would want to befriend a size-changing pig, but perhaps the movie will clarify that as well.
--
Nick Smith: Library Technician, Community Services, for the Pasadena Public Library in California.
Click here
for more ICv2 Kids Week articles on kids comics and graphic novels!