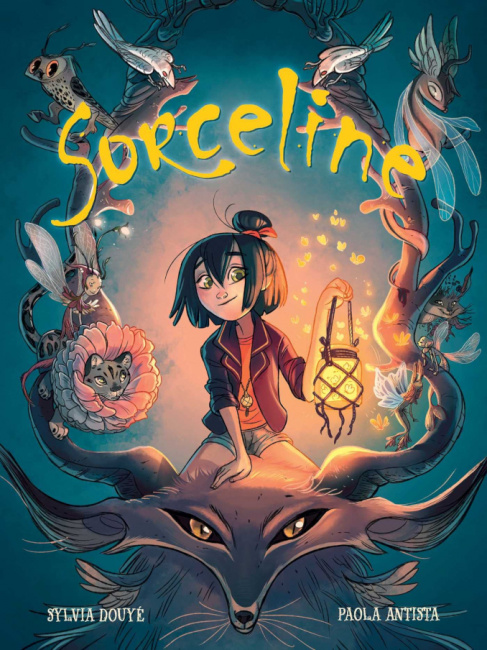 Sorceline TP
Publisher: Andrews McMeel Publishing
Release Date: May 17, 2022
Price: $12.99
Creator(s): Sylvia Douyé (Writer); Paola Antista (Artist)
Format: 144 pgs., Full Color,6"x8", Trade Paperback
ISBN: 978-1-5248-7131-4
Age Rating: 9-12 years
ICv2 Rating: 4 Stars out of 5
This is the English translation of the first three very small
Sorceline
books, which first came out in France in 2018 through 2020. The artwork is beautiful and detailed, which in this case is a slight drawback. Some readers may find it to be a little too light-hearted for the otherwise dark tale.
The format of the stories is a somewhat dark fantasy, aimed at middle school-aged readers. The unusual thing is that there are several mystery stories interwoven with the dark fantasy, and some of the clues are presented within the artwork. In one case the reader needs to have been paying attention to a character's
hairstyle
in order to even
see
the clue. Since the artwork is so entertaining in general, it's difficult to focus on which parts of it might be clues to the mysteries.
The story itself is about magic and folklore, and the students are studying to become learned in the ways of cryptids, and in this case cryptids are defined as any life form outside the ones that regular science acknowledges. Some are more common in other forms of fantasy, ranging from fairies to vampires, but a few are very, very obscure, and readers may not have encountered some of those before.
The mystery aspect is life-threatening for the characters, but red herrings abound, and even though a suspect is sort of identified, the behavior of another is so weird that by the end of the volume, there are plenty of plot threads left dangling. Still, by the end of the book, readers will be interested in what comes next. The bad news is that, at the rate the books come out in France, it may be another 2-3 years before American readers can see what happens next, and there is a major cliffhanger in the plot.
This volume is worth reading on its own, but the delay in a sequel will disappoint some readers.
--
Nick Smith: Library Technician, Community Services, for the Pasadena Public Library in California.
Click here
for more ICv2 Kids Week articles on kids comics and graphic novels!